What is ESTA? Here's how the Visa Waiver Program and eligibility work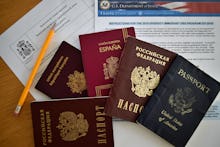 The Electronic System for Travel Authorization (ESTA), an automated system developed by the Department of Homeland Security, is designed to determine whether prospective visitors to the U.S. are eligible to visit without applying for a visa. 
Through ESTA, a person can determine whether or not they qualify for the Visa Waiver Program (VWP). Currently, the VWP is an agreement between the U.S. and 38 countries including Australia, Greece, Spain and Japan allowing citizens of those countries to stay in the U.S. without a visa for up to 90 days, and allows U.S. citizens to stay in those countries without a visa for the same length of time.
Requirements for eligibility
In order to be eligible to travel to the U.S. under the Visa Waiver Program, a person must be a citizen or national from one of the 38 countries that participate in the program, must be visiting for business or pleasure (not as a refugee or seeking permanent residence) and must not already be in possession of a visitor visa.
In order to apply for a visa waiver through ESTA, a person must have a valid passport, credit card and have contact information. Processing a Visa Waiver application to travel to the U.S. costs $4 and, if approved, an additional $10 authorization fee is applied. If an application is denied, the applicant is only charged the $4 processing fee.
Travelers can stay in a Visa Waiver Program country for a maximum of 90 days. After leaving, there is no set time required between visits but, the VWP site notes "there should be a reasonable amount of time between visits so that the [Customs and Border Protection] Officer does not think you are trying to live here."
Hypothetically, if you're a citizen of Iceland and you've been in the U.S. for 90 days under the VWP, you can take a weekend trip to Mexico or Canada and come back to the U.S. to reset your 90 days, but it would raise suspicions from Customs and Border Protection.
What if Trump eliminates the Visa Waiver Program?
According to the New York Times, President Donald Trump is expected to sign an executive order that would ban all refugees from entering the U.S. for at least 120 days and would suspend immigration from countries in the Middle East, including Iran, Syria and Yemen for at least 30 days. While the order doesn't target the Visa Waiver Program, Trump's interest in isolating the U.S. could ultimately extend to eliminating the Visa Waiver Program.
Should that happen, visitors from Visa Waiver Program countries would likely be treated like visitors seeking a nonimmigrant visa. Under the Immigration and Nationality Act, the secretary of state requires "every alien applying for a nonimmigrant visa ...to submit to an in person interview" unless the interview requirement is waived.
Visiting certain countries will now revoke your VWP eligibility
A new change altering eligibility for the Visa Waiver Program was implemented in Jan. 2016. The new requirements state that if at any time since March 1, 2011, a citizen of a VWP country traveled to Iran, Iraq, Sudan, Syria, Libya, Somalia or Yemen, they "are no longer eligible to travel or be admitted" into the U.S. under the VWP.
Additionally, those with dual citizenship in a VWP country and Iran, Iraq, Sudan or Syria are also prohibited from traveling to or entering the U.S. Since Jan. 21, 2016, those with valid ESTAs but who had stated on their ESTA application that they held dual citizenship with Iran, Iraq, Sudan or Syria would automatically have their ESTAs revoked.
These restrictions may be waived if the Secretary of Homeland Security "determines that such a waiver is in the law enforcement or national security interests of the United States." This includes traveling to one of the four banned countries on official duty for a humanitarian organization — like Doctors Without Borders — or for journalism or reporting purposes.