Cat yoga is now a thing, and it's the perfect way to escape this burning world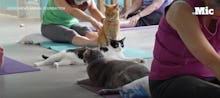 If you're in need of some zen right meow (sorry), have we got some good mews (sorry) for you: Cat yoga is a thing, and it's purrfect (sorry, last one).
Good Mews, a no-kill cat rescue center in Marietta, Georgia, offers yoga classes, so you can downward dog with some ultra-friendly felines and meditate on adopting a yoga partner. Good Mews also offers a reading program for kids to read to the cats, which encourages kids to read and gives the cats some much-needed affection. The center is also gearing up for a "Meows & Meowmosas Valentine's Brunch" on Feb. 12, where attendees can sip nonalcoholic mimosas, eat homemade treats and mingle with the center's cats; per Good Mews' website: "It's our own version of a Cat Cafe — Valentine style!"
The cats at Good Mews love the yoga program, Good Mews board of directors and marketing chair Nancy Riley said. "The cats love that the humans are on the floor with them, and they also love the calm environment, soft music, and dim lighting." According to Riley, cat yoga has been hugely popular — with classes costing just $20 that are full of cuddly cats, it's no wonder why. 
Bonus: All the funds go directly toward caring for the roughly 100 cats and kittens living at the shelter at any given time.
Meowmaste.