LG G6 features, specs and release date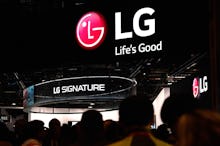 At February's Mobile World Congress trade show in Barcelona, LG will unveil the G6 smartphone — the successor to the G5. Several details have been revealed ahead of its debut. Here's what you can expect from the LG G6:
LG G6 features: Modular style will be gone
The LG G5 features a modular design where users could swap out the bottom of the phone for accessories. The design failed to catch on with consumers, so the company is switching things up with the LG G6. 
"It was a meaningful test for us," LG Chief Technology Officer Skott Ahn told CNET in an interview. "Of course, we paid a lot."
LG G6 features: Water resistance
Much like recent iPhone and Galaxy S devices, the LG G6 will have a sealed battery. By steering away from removable batteries, LG is now able to make its handset water resistant.
LG G6 features: Google Assistant
As of now, Google Assistant is available on two devices: Google's Pixel and Pixel XL. But all that is slated to change, as the LG G6 will also have the Google Assistant built in, CNET reported. Google Assistant can perform a range of functions such as searching the internet, making reservations and more. According to Google:
Find answers and get things done while on-the-go. Remind yourself to stop by the store, pull up your travel photos to show a friend and make a dinner reservation. No matter where you are or what's on the screen, say "OK Google" or touch and hold the Home button to get help from your Assistant.
LG G6 features: Old processor
The LG G6 will feature Qualcomm's Snapdragon 821 processor instead of the more recent Snapdragon 835 processor. Citing an anonymous source, CNET reported that the company opted for an older processor model to prevent delays in the LG G6's launch — the debut would have been pushed back to April had the company used the Snapdragon 835.
LG G6 features: Other specs
The LG G6 will have "a thin frame around the body" and rounded edges on the 5.7-inch glass display. According to The Verge, the smartphone will have an aspect ratio of 2:1 and the "screen-to-bezel ratio is greater than 90%." The smartphone will also have a waterproof headphone jack — unlike the iPhone 7 and 7 Plus — and will feature a dual-camera system and center-mounted fingerprint sensor.