What happened in the 'Scandal' finale? Season 5 recap before the season 6 premiere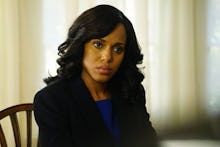 Scandal returns to ABC at 9 p.m. Eastern on Thursday night for the premiere of season six. And after last season's finale, we're more than ready. 
Season five left viewers with bated breath, waiting to find out the results of Scandal's fictional presidential election. Olivia had become increasingly power-hungry throughout the season and finally took it too far. At the same time, Fitz was in his final months as president before handing over the White House to either Mellie or Frankie. We find out Thursday who emerged victorious.
Speaking of Frankie, the season five finale focused in part on whom he'd select as his running mate. Campaign manager Cyrus pleaded for Frankie to pick David Rosen, with whom he got along really well. On the Republican ticket, Mellie was searching for her own vice president, and there seemed to be no better option than Bill Wagner. However, he had a checkered past that was hard to overlook — like the fact he was a drug dealer in college, a bit of information which was eventually leaked to the media. 
Meanwhile, as Olivia managed Mellie's campaign, she was also working on freeing Jake from the clutches of her father, who had blackmailed Cyrus to force Frankie to select Jakes as his VP. If he didn't? Well, he threatened to expose the Harrisburg hostage setup. Classic Papa Pope. This ultimately led to a showdown between father and daughter. 
Olivia ended up instituting Jake as Mellie's running mate, even over Jake's objections. He pleaded with her to run away with him and live a different, simpler life — but she refused. Like always, Olivia chose to put her work first. 
Back at the White House, Fitz was trying to gather his thoughts about his post-presidency plans. He also learned of Olivia's abortion and was at first furious, but later said he supported her very personal choice.
Find out who won the election during the season six premiere of Scandal on ABC at 9 p.m. Eastern on Thursday.
Mic has ongoing Scandal coverage. Please follow our main Scandal hub here.