Is Jamie Lynn Spears joining Fifth Harmony? We can jump on board with Britney's rumor.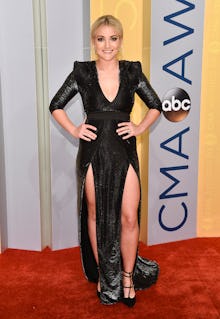 Britney Spears says her little sister, Jamie Lynn Spears, is now the newest member of pop group Fifth Harmony. Big sister Britney posted an image of Jamie Lynn photoshopped into a portrait of the group on her Instagram below, which ignited questions as to whether or not the news was true. 
Although there is no confirmation from the group that this is the real deal, Fifth Harmony is definitely playing along with it. The group tweeted its response to Britney's post Wednesday, and we can certainly jump on board with it.
Jamie Lynn Spears first shared the photo on her Instagram two weeks ago as part of the #Bethe5thChallenge, a social media hashtag for fans making their bids to join the newly opened spot in the group. 
Jamie Lynn started her own musical career in country music when she released her first EP The Journey in May 2014. The project peaked at No. 24 on the Billboard Top Country Albums chart.
Fifth Harmony became more like "Fourth Harmony" in December when former member Camila Cabello left the group and said she would be working on new music in 2017. The 19-year-old explained her exit in a letter.
Fifth Harmony first wrote in a statement that they had been informed by Cabello's reps about her departure. Cabello later wrote her own letter, stating, "The girls were aware of my feelings through the long, much-needed conversations about the future that we had during tour." 
Later, Fifth Harmony tried to settle the back and forth and wrote another note stating that those "supposed lengthy conversations in fact never happened."