Organizer plans LGBTQ march in Washington, DC, during June's pride celebration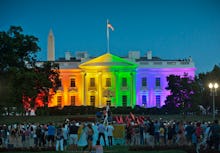 The historic Women's March on Washington has already inspired more people to lace up their shoes and go out into the streets of our nation's capital. 
After news broke that scientists have decided to storm Washington, D.C., in the name of science, the Washington Blade reported gay activist David Bruinooge has put plans in motion to have members of the LGBTQ community meet Trump on his turf during the city's pride celebration in June. 
Coined the "National Pride March," the Facebook page for the event already has around 13,000 "going" responses on Facebook with over 50,000 interested — after less than a week. 
Bruinooge told the Blade that he was inspired by the Women's March. 
"I was watching the events unfold on TV and I was very proud and inspired by all the women, the strong women in our country who were kind of taking this to the street and getting their voices heard," he said. "And in the back of my mind as an openly gay man I thought the gay community should be doing something like this to follow up on the momentum." 
According to a Facebook update from the march, organizers are "overwhelmed" by positive support and are not giving media interviews at this time. They also affirmed that this is an "all inclusive" march. 
Ryan Bos, executive director of Capital Pride Alliance, who plans the annual pride celebration in Washington, D.C., told the Blade he and Bruinooge spoke and that his organization will collaborate with the march. Bruinooge said he will ask Capital Pride officials to help him obtain permits and sort out logistics for the event. 
Capital Pride Alliance and the National Pride Alliance did not immediately respond to requests for comment. 
The Women's March in Washington, D.C., far outpaced Trump's star-lacking inauguration in terms of attendance. At least three times as many people attended the Saturday march, according to one report.  
The LGBTQ community has much to shrug at from a Trump administration. Trump's vice president, Mike Pence, has proved again and again throughout his career that LGBTQ people are not a priority, while education secretary nominee Betsy DeVos has some shady ties to anti-LGBTQ organizations that espouse conversion therapy.