Donald Trump blows the dogwhistle on voter fraud: "Look at what's registering"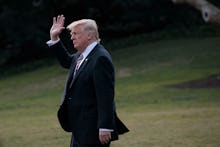 President Donald Trump leaned into his vow to investigate what he claims are widespread irregularities in voter registration, perhaps blowing a dog whistle to his base in the process.
Trump, speaking Thursday afternoon at a Republican congressional retreat in Philadelphia, said, "We need to keep the ballot box safe from illegal voting. And believe me, take a look at what's registering, folks."
He added, "We're going to protect the integrity of the ballot box, and we're going to defend the votes of the American citizens. So important."
Trump's insistence on ordering a probe of voter registration comes amidst a flood of bipartisan objections that there is no evidence of widespread tampering or rigging of the 2016 presidential election. 
However, the president has claimed, among other things, that legions of undocumented non-citizens registered and voted in November — in support, of course, of his opponent, Democrat Hillary Clinton.
The new president's Thursday "what's registering" statement didn't score any standing ovations even among his party compatriots in the City of Brotherly Love, where protesters gathered to excoriate Trump outside the GOP retreat.
However, the "what's registering" reference proved a code the Twitterverse claimed to have easily cracked -- and it's not good for Trump.
Trump Press Secretary Sean Spicer said during the daily White House press briefing Wednesday that the new president wasn't trying to delegitimize his own November victory by calling for an inquest.
"I don't want to start throwing out numbers, but there's a lot of people that are dead that are on rolls, that are on the rolls in two different states, sometimes three different states," Spicer said.
Trump's double-down on investigating supposed voter fraud came as Mexican President Enrique Peña Nieto announced his delegation would pull out of a scheduled trip to the U.S. 
The meeting fell apart after Trump signed an executive order setting in motion the building of a U.S.-Mexico border wall which Trump says America's southern neighbors will (eventually) underwrite and to which his Mexican counterpart says he will not contribute a peso. 
Trump insisted the meeting got scratched by mutual agreement.