What do the emojis on Snapchat mean? Here's your guide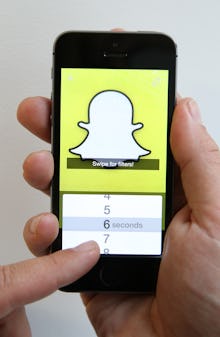 The emojis next to users' names on Snapchat can be mysterious if you don't know what they mean. You can find out, though, by going to Settings > Manage Preferences > Friend Emojis. Here, you can get the breakdown of all the emojis and what they signify. 
Don't approve of the ratings you have on Snapchat? You can scroll to the bottom of that page and select "Reset to default" if you want a clean slate for your streaks and BFFs. 
Super BFF
According to Snapchat, two pink hearts means the user is your "#1 Best Friend" and you're their No. 1, too. You can only receive this distinction if you've been each other's No. 1 for two months in a row.
BFF
After being each other's No. 1 for two weeks, you get a red heart distinction. Keep this up for two consecutive months and you'll get upgraded to Super BFF status.
Besties
Prior to reaching BFF status, though, you'll have to achieve the rank of Besties — when you and another Snapchat user are each other's No. 1 for less than two weeks. This level is signified with a yellow heart.
BFs
The smiley-face blushing emoji lets you know who your best friends on Snapchat are.
Their BF, but ...
The slick-grinning emoji is a perfect fit for this distinction — when you're their best friend but they're not yours. The nerve!
Mutual Besties
Sharing is caring, except when it's your best friend. The awkward-smile emoji appears next to a user when your "#1 Best Friend" is also theirs. Awkward.
Mutual BFs
When you get the smiley-face emoji with sunglasses, it means you share a best friend with that Snapchat user.
New friend
The baby emoji denotes someone who's a new friend on your list.
Snapstreak!
The fire emoji represents a snapstreak and appears next to a number signifying how many days you and a friend have snapped each other. If you guys don't snap each other within 24 hours, your streak will be over.
Replay!
The star emoji appears next to a user when one of their snaps has been replayed within the past 24 hours by you or another Snapchat friend.
Group Chat
The diamond-star emoji trio appears next to Group Chats.