This is not a drill. Nina Dobrev posted a picture of 'The Vampire Diaries' series finale script.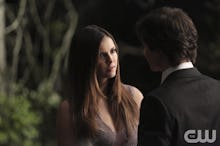 It's happening. After leaving The Vampire Diaries at the end of the sixth season, Nina Dobrev is officially returning to The CW show for its series finale.
There was hope and speculation that the actress would reprise her role as Elena Gilbert for the show's series finale. Fans finally got confirmation Thursday afternoon, when Dobrev took to Instagram to post a photo of the script for season eight, episode 16, which also serves as the supernatural drama's final episode ever.
The photo only shows the cover of the script, but that still reveals a lot of information. We now know the episode's title is "I Was Feeling Epic" and that it was written by series creators Julie Plec and Kevin Williamson. Plec is also serving as the finale's director. 
For Plec's part, she took to Instagram on Wednesday to reveal the start of filming for the episode.
Plec also posted Thursday a photo of The Vampire Diaries crew filming in Damon's bedroom — sans portrayer Ian Somerhalder — for the last time. 
Fans will remember Dobrev left the series in the season six finale to pursue a film career. However, her character wasn't killed off. Rather, Elena was the victim of a curse linking her to best friend Bonnie: As long as Bonnie lived, Elena would remain in a magical coma. Damn those magical comas.
While it's now official that Elena will appear on screen, viewers will have to tune into the finale to see exactly how the series is bringing her back. Will Bonnie die? Will the episode feature a big time-jump so Bonnie can age? Will Elena appear in a dream sequence? And will Damon even still be alive to reunite with Elena?
Here's hoping exes Dobrev and Somerhalder will be able to give Vampire Diaries fans another Delena kiss-in-the-rain scene.
Watch The Vampire Diaries series finale when it airs on The CW at 8 p.m. Eastern on Friday, March 10.