Super Bowl Odds: Vegas lines for Atlanta Falcons vs New England Patriots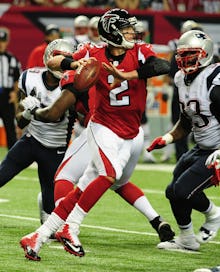 On Feb. 5, the Atlanta Falcons will seek their first Super Bowl win in franchise history as they take on the New England Patriots, who've won four under the guidance of quarterback Tom Brady and head coach Bill Belichick. 
The Falcons, who flew under the radar in the middling NFC South, will look to their explosive, historically awesome offense to soar past the Pats' solid defense. 
The Patriots will rely on the experience of Brady and Belichick as they attempt to exploit a weak Falcons defense; if the Patriots pull off the win, Brady will surpass NFL legends Joe Montana and Terry Bradshaw in Super Bowl wins with five and perhaps cement the already-strong case that he's the greatest quarterback ever.
Who is the Super Bowl favorite?
After the Falcons and Patriots easily dispatched the Green Bay Packers and the Pittsburgh Steelers, respectively, the two teams will meet in Houston for the Super Bowl.
The Patriots are three-point favorites, according to ESPN, and "the favorite has won 32 of 50 Super Bowls." The over-under is set at a whopping 58.5 points for the two offensive powerhouses – the highest in Super Bowl history. As of Jan. 23, the Patriots were listed at -155 and the Falcons at +125, according to OddsShark.
Brady was suspended for the first four games of the season for his role in the Deflategate scandal, but the Pats went 14-2 in the regular season for first place in the AFC East and were Super Bowl favorites throughout. The Falcons began the season nowhere near the Super Bowl radar, but quarterback Matt Ryan and a dominant running game powered the team to an 11-5 regular-season record.
The Patriots have won eight Super Bowls. They most recently won in 2015 with a 28-24 nail-biter over the Seattle Seahawks.
Atlanta has been to previous Super Bowl, in 1999. The Falcons lost to the Denver Broncos 34-19.