Nintendo Switch Games: Trailer shows someone playing 'Mario Kart 8 Deluxe' on the toilet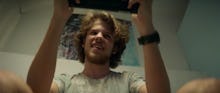 Nintendo has a reputation for being old-fashioned, but the latest ad for its new console, the Nintendo Switch, doesn't pull any punches. It finally acknowledged the best use for its new console, which can be on the go like a Game Boy — taking it with you into the bathroom and playing on the toilet.
Nintendo Switch Games: New commercial encourages you to play on the toilet
The commercial, posted on the Nintendo Switch Germany Facebook page, focused on how Nintendo's new console works, showing people using the Switch as a handheld console on the go and then plugging it into its dock to play on their TV.
The commercial tried to pad the footage of the guy playing on the toilet with some more wholesome uses for its new console — like playing a friendly pick-up game with your buds before studiously attending class — but Nintendo isn't fooling anyone. The real selling point of the Nintendo Switch is that you can keep playing uninterrupted, even if that means taking it with you when nature calls.
The Nintendo Switch will be available on March 3.
More Nintendo Switch news and updates
For more info on Nintendo's new console, here's where you can get our hands-on with the Nintendo Switch, details on the Nintendo Switch price, release date, pre-orders and battery life. If you're interested in the Nintendo Switch's games, here's info on the new Super Mario Odyssey game, Legend of Zelda: Breath of the Wild, Splatoon 2, Xenoblade Chronicles 2, 1-2-Switch and the goofy boxing game Arms.