Sofía Vergara defends 'Modern Family' character after Latinos complain about Gloria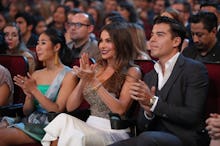 "What's wrong with being a stereotype?" Sofía Vergara asked in response to criticism of her performance as Gloria Delgado-Pritchett on Modern Family. 
The hit ABC series, currently in its eighth season, follows a suburban Los Angeles family of which Gloria is the matriarch. Spirited and outspoken, Gloria possesses a fiery temper. When her house is egged by teenagers on Halloween, she yells: "You put eggs on my house, I kill what you love!"
"Gloria's character is inspired by my mom and my aunt," Vergara told Hola! USA in response to criticism that her performance as Gloria personifies stereotypes about "spicy Latina" women. "They are both Latina women who grew up in Colombia, like me. They love color, prints and shoes ... It upsets me when Latinos complain about Gloria. I am grateful for the opportunity because the gringos have let me in with this strong accent I have. Eight years ago, nobody had an accent like this on television."
Vergara, the highest-paid TV actress for five consecutive years, recently won favorite comedic TV actress at the People's Choice Awards. In her acceptance speech, she said: 
I never in a million years thought that with this ridiculous accent I was ever going to be able to be a part of something so successful, something so loved by all of you like Modern Family.
Along with her onscreen persona, Vergara's appearances at awards shows have sparked criticism. At the Golden Globes, a joke perceived as making fun of her accent and heritage inspired backlash from fans. 
When presenting at the Golden Globes, Vergara said, "The Hollywood Foreign Press Association has an anal tradition, I didn't mean ... they have an anus tradition. They have a tradition that they do every year of choosing a second-generation performer to assist in the presentation of the awards."
Her participation in a joke seen as objectifying women at the 2014 Emmys also provoked angry reactions. As Academy of Television Arts and Sciences President Bruce Rosenblum discussed the academy's commitment to diversity, Vergara stood next to him on a revolving pedestal. 
Mic has ongoing Modern Family coverage. Please follow our main Modern Family hub.