Oscar Best Picture Winners: A list of every movie that has won since 1929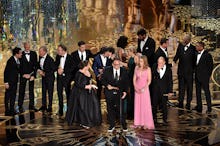 The highest honor for a film in Hollywood is an award for best picture at the Oscars. The nine films nominated for the most coveted award this year are Arrival, Fences, Hacksaw Ridge, Hell or High Water, Hidden Figures, La La Land, Lion, Manchester by the Sea and Moonlight.  
In 2016, the best picture award went to Spotlight, the film about a team of Boston Globe investigative journalists who uncovered a story on a priest accused of pedophilia. We'll see who wins the next best picture award when the Oscars air on ABC Feb. 26 at 7 p.m. Eastern and 4 p.m. Pacific. 
As we wait to see who will be given the top accolade, go back in time and check out a full list of best picture winners beginning in 1929. 
1920s
1929: Wings
1930s
1930: The Broadway Melody 
1940s
1940: Gone With the Wind  
1950s
1950: All the King's Men
1960s
1960: Ben-Hur
1970s
1970: Midnight Cowboy
1980s
1980: Kramer vs. Kramer
1990s
1990: Driving Miss Daisy
2000s
2000: American Beauty
2010s
2010: The Hurt Locker
Mic has ongoing Oscars coverage. Please follow our main Oscars hub.