Trump suspends visas: Here's a full list of countries on Trump's visa ban list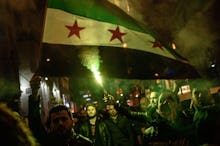 Americans are now getting a glimpse of what President Donald Trump could do regarding immigration issues. A raft of leaked draft executive orders indicate that the newly minted administration will soon impose draconian restrictions on migrant and refugee admissions. 
Trump is expected to sign the executive orders, which will, among other things, temporarily ban most refugees from entering the United States, as well as suspend visas to citizens from seven Muslim-majority countries. 
When ABC News' David Muir asked President Trump if his policies would cause "more anger" in the Muslim world, he responded: 
"More anger? There's a lot of anger right now. How can you have more? The world is an angry place. All of this has happened. We went into Iraq, we shouldn't have gone into Iraq. We shouldn't have gotten out the way we got out. The world is a total mess."
The countries whose citizens would no longer be eligible to receive visas under the order are:
Iran
In July 2015, Trump said that the nuclear deal between Iran and six world powers posed a security threat to the United States, ABC News reported. 
"The Iran deal poses a direct national security threat," Trump tweeted. "It must be stopped in Congress. Stand up Republicans!"
Iraq
If you ask Trump, had the United States controlled Iraq's oil reserves, the Islamic State would not have been able to seize them for the funding of its terror operations and growth. The Atlantic reported that Trump's obsession with taking Iraq's oil encapsulated a "broader view" of national security during his presidential campaign.  
Libya 
In an April 2016 interview on the Today Show, Trump said ISIS was making a fortune on Libyan oil. The Washington Post proceeded to debunk that claim.
Nevertheless, Trump continued to suggest ISIS controlled oil fields in Libya, and that the U.S. should have bombed the Islamic State on Libyan soil. 
"Who has the oil in Libya? ISIS has the oil," Trump said at a May 2016 rally in Fresno, California. "If ISIS has the oil, why aren't we blockading so they can't sell it? Why aren't we bombing the hell out of [ISIS]?" 
Somalia
Two days before Election Day, Trump held a rally in Minnesota, where he gave warnings about Somali refugees in Minneapolis, according to the Guardian. 
"Here in Minnesota, you've seen first-hand the problems caused with faulty refugee vetting, with very large numbers of Somali refugees coming into your state without your knowledge, without your support or approval," Trump told the crowd. 
Sudan 
On Sept. 15, 2012, the government of Sudan rejected a U.S request to send Marines to increase security at the U.S. embassy in Khartoum. In light of the announcement, Trump tweeted: "Now a small country like Sudan tells Obama he can't send any more Marines. We are a laughing stock." 
However, days prior to his swearing-in, Trump approved of former President Barack Obama's preliminary decision to ease sanctions against Sudan, thanks to its cooperation in fighting ISIS and other terrorist groups.  
Syria 
The Syrian civil war is the deadliest conflict so far in the 21st century, according to Al Jazeera. In the years since the conflict began, more than 450,000 Syrians have been killed, millions have been injured and 12 million have been displaced. 
Nevertheless, Trump has taken a hard line on Syrian refugees entering the U.S., referring to them as a "Trojan horse" during the third presidential debate.
Yemen 
The Associated Press reported on Sunday that U.S. drone strikes killed three al-Qaida operatives in Yemen. They were the first reported drone strikes under Trump's presidency.
As the Sana'a Center for Strategic Studies pointed out in a report, Trump, during his campaign, referenced a 2014 case of a Yemeni-American immigrant who allegedly tried to join ISIS. 
"From these and other comments, it would appear that Trump lumps Yemen into what he has referred to as 'terrorist nations,'" the report states. "Trump's campaign statements on blocking either all foreign Muslims, or residents of countries with a history of terrorism, from entering or immigrating to the United States – reiterated since his election win – have thus caused anger in Yemen, which is likely to be on the list of banned countries."