Jerry Seinfeld just made a Black Lives Matter joke — and Twitter did not appreciate it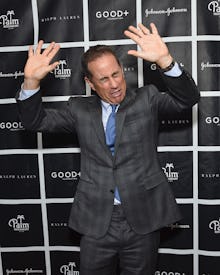 Comedian Jerry Seinfeld didn't get many chuckles with his Thursday morning tweet. 
Promoting an upcoming episode of Comedians in Cars Getting Coffee featuring Lewis Black, Seinfeld tweeted "Black's life matters" — a parody of the name of the grassroots civil rights organization Black Lives Matter.
"This is a bad tweet," one response read. 
"Who's writing your tweets now? The Breitbart humor section staff?" another read, referencing the rightwing news site.
Seinfeld's tweet makes light of a struggle born from racial subjugation and police brutality, relics of America's dark history of slavery. The comedian's identity as a cisgender, straight, wealthy, white man — in other words: completely immune to said struggles — likely makes his tweet even more provocative. 
Other groups who attempt to undermine the movement by coopting the phrase in iterations such as "all lives matter," "white lives matter" or "blue lives matter" have made jokes like Seinfeld's even more charged. 
Seinfeld previously drew ire for comments during an ESPN interview in 2015 about how political correctness was killing comedy, according to the Hollywood Reporter.
"They just want to use these words: 'That's racist;' 'That's sexist;' 'That's prejudice.' They don't even know what the fuck they're talking about," Seinfeld reportedly said of college students. 
"I have no interest in gender or race or anything like that," he added. "But everyone else is kind of, with their calculating — is this the exact right mix? I think that's... to me it's anti-comedy: It's more about PC nonsense."