Nintendo Switch 'Rocket League' Release Date Rumors: Why it's a match made in heaven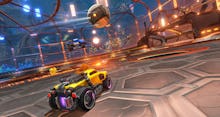 The arrival of Rocket League on the Nintendo Switch has not been confirmed by either company, but that doesn't mean it's not coming. Nothing is official yet, but Nintendo has hinted that games like Rocket League would be more than welcome on the Switch. Here's why fans of rocket-powered soccer game may be able to play on the Nintendo Switch.
Nintendo Switch Rocket League: Here's why the game could come to Switch
There are more than a few reasons why Rocket League coming to the Nintendo Switch would be a no-brainer decision. Here are some of those reasons, in no particular order:
Nintendo wants the Switch to be the king of local multiplayer.
Everything we've seen in the Nintendo Switch trailer and promotional materials makes it clear that this machine is built with multiplayer in mind. The ability to turn one console into a two-controller tablet hints at the return of split-screen multiplayer. That means Mario Kart 8 Deluxe or the arrival of Rocket League on the Nintendo Switch.
Nintendo wants the Switch to be popular among the professional gaming crowd.
Nintendo isn't shy about wanting the Switch to be used amongst competitive gamers. The arrival of Splatoon 2 is meant to make Nintendo's shooter a competition staple. A Rocket League release date on Nintendo Switch could help things along.
Nintendo wants to bolster its third-party relations.
Nintendo's first-party games are always a reliable source of fun for owners of the company's consoles, but Nintendo's Wii U never managed to gain proper full third-party support. The arrival of Rocket League for Nintendo Switch would ease the troubles of fans looking for the game machine to receive proper developer support, and pave the way for even more third-party games moving forward.
Nintendo isn't shy about releasing older third-party games on the Switch.
Another prominent part of Nintendo's promotion of the Switch was Skyrim. An epic title from Bethesda that was released back in 2011. Rocket League is newer than Skyrim and just as relevant for many gamers.
The fans want it.
Fans across the internet have spoken up, and they're not opposed to Rocket League making its way to the Nintendo Switch.
Rocket League's creators want it, too.
It isn't just fans, Psyonix wants it, too. In an interview with Nintendo Life, the developer studio was quoted saying, "We don't have enough information at this time if it will happen. For the meantime, let's both keep our fingers crossed that it will."
Let's keep our fingers crossed indeed, Psyonix.
Check out more Nintendo Switch news
For more info on the Nintendo Switch, check out details on the console's price, release date, pre-orders, battery life and our review hands-on. If you're interested in the Nintendo Switch's games, here's info on the new Super Mario Odyssey , Legend of Zelda: Breath of the Wild, Splatoon 2, Xenoblade Chronicles 2, 1-2-Switch and the goofy boxing game Arms.