These 5 devices will get you closer to a truly smart home in 2017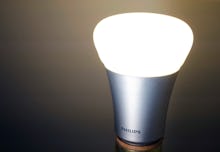 Let's face it: We all want a smarter, more efficient home that can do the hard work for us — at our command — even while we're away. Here are five new smart home products will get us a lot closer to that technological dream in 2017: 
The smart air conditioner 
Noria is a new product that aims to revolutionize climate control. The window air unit is 40% smaller than other units like it, and therefore weighs much less. The temperature can be controlled via smartphone. Even better yet, it's super easy to install, coming with its own special adapter. Its creators launched a Kickstarter campaign to fund the product and expect to release it by spring with a retail price of $399.
Smart lighting 
The Philips Hue is a wireless LED lighting system that allows users to dim their lights and, on some models, change their color, with the press of a button — on their smartphones, of course. With this product, you'll be able to set the lights in your home to fit any type of mood possible. The kits can run you anywhere between $34.99 and $199.99.
Smart cooking 
When Belkin and Crock-Pot joined forces, they created the first slow-cooker that allows remote access to your dinner. Just prepare your ingredients, choose your cook time and temperature and you're done. You can monitor and modify your meal on the go as well, changing the settings to fit your changing schedule. You can get the WeMo Crock-Pot at various online retailers for around $130.  
Smart home security
The Nest Cam indoor security camera offers 24/7 live streaming, person alerts and additional features that can all be controlled through one app. It's currently topping most reviews as the height of indoor security tech, and for about $200, it allows you to make sure everything in your home is completely safe even when you're away. 
Smart parenting 
Rocking your child to sleep is now a thing of ease, thanks to the Fisher-Price Deluxe Newborn Auto Rock 'N Play Sleeper. This product combines sleep and playtime into one, allowing you to control its music, vibration and rocking features with your phone. They can also be programmed to start automatically — all for about $100.