Missy Elliott drops surprise "I'm Better" video, another futuristic epic for her catalog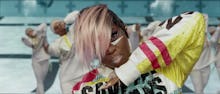 It's been a year since Missy Elliott last stopped hearts and stopped time with her "WTF (Where They From)" video drop. The colorful blast of joy it offered, with its funky, Stankonia meets Blade Runner vibe, reminded the world just how much it missed one of hip-hop's finest. 
At the stroke of midnight heading into Friday, the artist did it again, presenting fans with another futuristic freak-out in the form of a new single and video, "I'm Better" featuring rapper Lamb.
She gave fans only an hour to prepare. "A MUST SEE" she teased on Twitter, sharing a short clip of iconic artists such as Busta Rhymes and Pharrell speaking to her greatness. 
As usual, Elliott brings the heat, ushering her dance crew from a laser-lit grotto club to the floor of an swimming pool.
The track shows the pioneering rapper experimenting with today's trap conventions, adding her wobbling funk sensibilities to a sparse DJ Mustard-esque beat. Elliott makes clever use of the space, spitting stylish boasts in a variety of flows.
"Bruce Lee on the beat/ I don't compete with none of these geeks/ I just rant like I'm Kanye," she spits in one triplet-heavy second verse run.
There's no word of a larger project as of yet, only Elliott's previous promise that it's in the works. "I want to say 2016 but I don't want to give a time," she told Billboard in 2015. "Nowadays you say a time, they'll stone you."
As with all of Elliott's game-changing releases, when it comes the world, we won't be able to ignore it.
Watch the video below.
Jan. 27, 2017, 12:55 a.m.: This story has been updated.