Trump supporter charged with hate crime after attacking JFK airport worker in hijab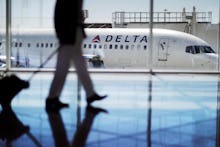 Authorities in New York City charged a Massachusetts man with hate crimes Thursday after he allegedly kicked a hijab-wearing employee at Kennedy International Airport and shouted "Trump is here now ... he will get rid of all of you!"
According to a press release from Queens County District Attorney Richard A. Brown's office, 57-year-old Robin A. Rhodes of Worcester, Massachusetts, was at JFK Wednesday awaiting a connecting flight. Between 7:10 p.m. and 9:45 p.m., Brown said, Rhodes accosted Rabeeya Kahn as she sat in her office in the Delta Air Lines Sky Club lounge. 
"Are you [expletive] sleeping? Are you praying? What are you doing?" Rhodes said, according to Brown's office. He then allegedly punched the door, which hit the back of Kahn's chair. Kahn asked Rhodes what she had done to him and he responded, "You did nothing but I am going to kick your [expletive] ass," before kicking her in the leg. When she tried to leave the office, Rhodes allegedly kicked the door again and blocked her from leaving, according to the press release.
Someone eventually intervened, allowing Kahn to leave the office as she ran to the front desk, Brown's office said. According to the press release, Rhodes then followed her and got down on his knees and began mocking Muslim prayer and shouted, "[Expletive] Islam, [Expletive] ISIS, Trump is here now. He will get rid of all of you. You can ask Germany, Belgium and France about these kind of people. You will see what happens."
Trump is expected very soon to sign an executive order that will include a ban on refugees, as well as the suspension of visas from seven countries with Muslim majorities: Iran, Iraq, Libya, Somalia, Sudan, Syria and Yemen. The move essentially makes good on part of his campaign promise to ban people from Muslim countries from entering the United States.
After being arrested, Rhodes allegedly told police, "I guess I am going to jail for disorderly conduct. I couldn't tell if it was a man or woman because their back was to me and they had something covering their head."
Rhodes, who had arrived at the airport from Aruba and was awaiting a connecting flight to Massachusetts, has been charged with third-degree assault, second-degree unlawful imprisonment, third-degree menacing, first-degree harassment, all with hate crime specifications. He also faces additional assault and harassment charges. If convicted, Rhodes faces up to four years in prison.