Trump told National Park Service director to find photos proving inaugural crowd size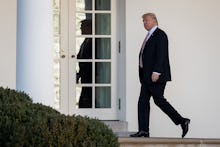 The day after being sworn in, as nearly 2 million people gathered around the world to protest his presidency, President Donald Trump contacted National Park Service director Michael Reynolds and demanded that he find proof to back Trump's own insistence that his inaugural crowd was the largest in history, the Washington Post reported.
According to sources who spoke with the Post on the condition of anonymity, Trump "personally ordered Reynolds" to provide photos that would prove his belief that the media lied about reporting the fact that his inaugural crowd was about average. The Post noted that word of the phone call "rapidly spread" throughout the National Park Service agency — and Washington — due to its unprecedented nature.
When asked for comment, the National Park Service agency spokesman Thomas Crosson told the Post that the NPS "does not comment on internal conversations among administration officials." White House deputy press secretary Sarah Huckabee Sanders said that the call simply demonstrated Trump's "accessible" management style, adding, "He's not somebody who sits around and waits. He takes action and gets things done. That's one of the reasons that he is president today, and Hillary Clinton isn't."
Despite the fact that Trump is indeed the president, he has remained fixated on the popular vote — which he lost by nearly 3 million votes — and the fact that his inauguration wasn't as heavily attended as he would have liked. On Wednesday, Trump announced that he would launch an investigation into alleged voter fraud, which he blames for allowing Clinton to run up the score in the popular vote. 
According to the NPS sources who spoke to the Post, Reynolds reportedly sent Trump aerial photos of the inauguration which did nothing to prove Trump's claim that there were "a million, a million and a half" attendees, or that the side-by-side photo comparison of Obama's 2009 inauguration compared to Trump's that went viral on Friday, Jan. 20, was taken before the full audience showed up. Instead, the Post reported, experts estimate Trump's inaugural crowd was, at best, a third the size of Obama's in 2009, whose inaugural crowd was a record-breaking 1.8 million.