Kelly Rowland's comments about men with "past gay experience" sound a lot like bisexual stigma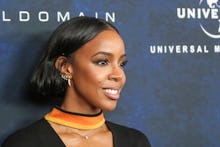 Has anyone told Kelly Rowland about bisexual people? 
While promoting her new Lifetime movie Love by the 10th Date, which deals with a variety of relationship issues — including open marriages and bisexuality — the singer told the New York Post that women should ask their men about past sexual experiences with other men. 
"There are some women who are not finding the real truth about their partner's sexuality until they go through their man's phones," Rowland said. "But it happens with guys, too, not just women. I can't tell someone how to feel about dating someone who is bisexual or had a past gay experience, but it's proper to ask in today's times." 
Even though bisexual people make up the largest percentage of the LGBTQ  community, myths and misinformation about their sexuality run rampant, as is clear from Rowland's comments.
Rowland's assertion that some women only find out about their partners' sexual dalliances by going through their phones plays right into the "sneaky bisexual" myth, or the idea that bisexual people lie about their sexual history or are more likely to cheat. And it's odd that in Rowland's scenario, the bisexual partner is being "sneaky" while the woman is the one going through her partner's phone. 
Rowland's comments also highlight the overall negative attitudes many have toward bisexuality, but especially toward bisexual men. One 2016 study found there is disproportionately higher stigma surrounding bisexual men than bisexual women. 
The stigma even exists within bisexual communities. Earlier in January, Amber Rose — herself bisexual — found herself in hot water after saying on her podcast that she "wouldn't be comfortable" dating bisexual guys.
Rowland said that in today's times, it's "proper to ask" about someone's sexual history. While conversations about sex are important, it sounds more like she's asking for men to come out about sleeping with other men — what she calls "past gay experiences," which sounds a bit like bisexual erasure — than both partners engaging in an open dialogue about sex.