4 nods to 'Fifty Shades Darker' in Taylor Swift and Zayn's "I Don't Wanna Live Forever" video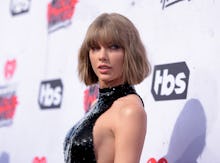 The video for Taylor Swift and Zayn's Fifty Shades Darker single "I Don't Wanna Live Forever" arrived at midnight Friday, and it's already racked up more than 3 million views — when combining numbers on both Swift and Zayn's YouTube pages — by mid-morning on Friday.
In the video, Swift and Zayn bring the lusty lyrics to life via their breathy tones for their song from the Fifty Shades of Grey sequel's soundtrack. They roam a dark hotel, eventually trashing their rooms out of sexual frustration. Although there's no bondage or intimate moments between the two in the footage, here are four visual odes to Fifty Shades worth pointing out: 
Zayn as Christian Grey
Zayn channels Christian Grey, a rich entrepreneur and Anastasia Steele's love interest in the Fifty Shades series, in the opening scene of the music video. 
Black lingerie
Swift gets into the Fifty Shades theme by rocking some black lacy lingerie.
The "Red Room" 
There are cuts to a red room, which is an homage to Grey's identically hued sexual dungeon for pain and pleasure.
Masks from the masquerade ball  
As shown in the trailer, Fifty Shades Darker depicts a masked ball. Swift has her own guests over for a masquerade affair in the "I Don't Wanna Live Forever" video. 
The release of this video is building anticipation for fans of the new film. Fifty Shades Darker, based on the second book in the Fifty Shades trilogy by British novelist E. L. James, hits theaters Feb. 10.
Mic has ongoing Fifty Shades of Grey coverage. Please follow our main Fifty Shades of Grey hub.