Melania Trump appears on the cover of 'Vanity Fair' Mexico eating a bowl full of jewelry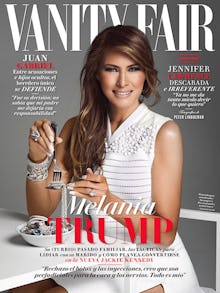 Well, this is awkward. 
On Thursday, Vanity Fair Mexico debuted the cover for its February issue. Against a grey background, the cover is an old picture of first lady Melania Trump, sitting at a table, with a bowl overflowing not with food, but with diamond jewelry. A necklace is wrapped around the fork she holds like a strand of spaghetti. 
And yeah, this is bad timing. On the same day, Mexican president Enrique Peña Nieto canceled his meeting with President Donald Trump over his plan to build a wall between the two countries. 
Donald Trump had famously insinuated that most Mexican immigrants are rapists and drug dealers, saying in June 2015: "When Mexico sends it people, they're not sending their best. They're not sending you. They're sending people that have lots of problems, and they're bringing those problems with us. They're bringing drugs. They're bringing crime. They're rapists. And some, I assume, are good people." 
And now, here is Melania Trump on the cover of a major magazine in Mexico, posing with diamond jewelry like it's pasta. In another picture, she poses with jewelry in a cup. 
The photographs, taken by Douglas Friedman, weren't originally for the Vanity Fair Mexico cover, but for GQ back in April. The headline was about Trump spilling her secrets and her real political views, to which she said "nobody will ever know."
According to the Evening Standard, Mexicans are already deeply upset about the issue, with some even demanding that it be pulled. 
"We demand Vanity Fair Mexico not to distribute their magazine with Melania Trump on the cover; it's a mockery and humiliation for Mexico," one woman tweeted in Spanish. 
Another: "Melania Trump eating a plate of diamonds for breakfast on the cover of Vanity Fair Mexico – what a joke."
The cover is getting heat as well on the magazine's Instagram account. 
"I'm not Mexican but even I know how much Donald Duck disrespected Mexico and it's people!" one commenter wrote. "And you guys make his wife the poster girl of your magazine?"
"I hope you know just how irresponsible it is to have the wife of the man who called Mexicans drug dealers, rapist and murderers on the cover," another wrote. "If what you wanted was attention I hope you got it and I hope that doesn't let you sleep at night. History will remember this." 
Mic has reached Vanity Fair Mexico for comment.