Miss Universe 2017 Livestream: When and where to watch online and on TV Sunday, Jan. 29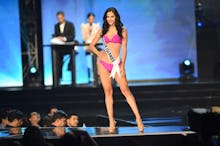 Remember when Donald Trump attacked Miss Universe Alicia Machado in September for gaining "a massive amount of weight"? Now he can tell (or tweet) the American public his thoughts on Miss Universe as president, although it's unlikely he will have a chance to grab and kiss one of the contestants this year, now that he no longer owns the franchise. Here's how to livestream the 65th Annual Miss Universe Competition when it airs Sunday.
When and where to watch
The 2017 Miss Universe Competition will air on Fox on Sunday, Jan. 29 at 7 p.m. Eastern. Outside the United States, the competition airs on different networks, depending on the country.
To livestream Miss Universe in the U.S., go to Fox.com's live page. Then log in with your TV provider credentials. As explained on the Fox customer service page, the livestream will broadcast according to the market where you are physically located. So if your TV account is based in the East Coast but you are visiting the West Coast, you will see the Pacific live broadcast.
Curious about who's competing? Meet the contestants and watch the preliminary competition, which took place Thursday, here:
Let's hope Steve Harvey correctly names the winner this year. He will be returning as the host after crowning the wrong contestant in December 2015.