This powerful photo series teaches young girls that no career is off-limits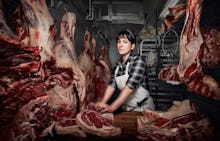 With his photo series Women's Work, photographer Chris Crisman proves that no occupation is off-limits to women — including those typically dominated by men. 
The series, Crisman explained in an interview with A Photo Editor, started with an initial photo shoot with Heather Marold Thomason, a Philadelphia butcher. Following his meeting with Thomason, Crisman said, "It immediately became something I wanted to further develop." He went on to photograph a truck driver, a firefighter and a lobster fisherwoman, among others.
"I am a father of two – a 4-year-old boy and a 2-year-old girl," Crisman continued. "I was raised to believe that I could do whatever I wanted to when I grew up. I want to pass down a similar message to my children, and without caveats. I want to raise my children knowing that their dreams have no limits and that they have parents supporting them to dive into anything they feel passionate about."
Crisman summed up the project's message in one sentence: "Gender should not determine professional opportunities."
A 2015 study published in the journal Frontiers in Psychology suggested that cultural stereotypes of the male-dominated fields of computer science and engineering often dissuade women from joining those professions. Similarly, a 2016 ZipRecruiter study discovered people are less likely to apply to job listings that use gender-biased language. 
But even after entering a male-dominated profession, gender biases continue to plague women. A 2004 study in the Journal of Applied Psychology determined that women who succeed in male-dominated fields are disproportionately seen by their coworkers as difficult to work with, unlike those excelling in female-dominated professions.