Nintendo Switch 'Rime' Release Date: Game set to launch on Switch, PS4 and Xbox One in May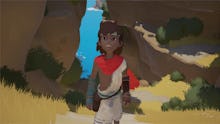 The vibrant, cartoony adventure game Rime recently made its grand reappearance after years of radio silence, with a newfound commitment to platforms other than the PS4. Namely, it's coming to the upcoming Nintendo Switch, meaning there will be a way to take Tequila Works' intriguing puzzler with you while you do your business. 
The game's developers recently took part in a crowd-sourced interview with IGN readers that shed some new light on that version of the game. Here's everything we learned about Rime for Nintendo Switch.
Rime Nintendo Switch release date and development info
The most revealing tidbit from IGN's interview is that the Switch version of Rime isn't being developed in-house at Tequila Works like the other versions. Instead, it's being handled by Tantalus Media, a prolific Australian outfit known for optimizing existing games for other platforms. Tantalus recently made the HD remaster of The Legend of Zelda: Twilight Princess for Wii U, and is also working on the Switch version of Sonic Mania. 
Tequila Works also re-committed to the Switch version having the same May release date as the PS4, Xbox One and PC versions of the game. 
There is still a lot of development to take into consideration, but we're working hard to get the Nintendo Switch version ready for release at the same time as the PlayStation 4, Xbox One and Windows PC versions in May. We'll have more info to share in the months to come.
There is a slight air of uncertainty to that comment, but as of right now, it sounds like Switch owners won't have to wait any longer than everyone else to get their hands on Rime. Additionally, Tequila Works is looking to release the game physically, as well as digitally, but hasn't secured a deal yet.
To see Rime in action, check out the trailer below.
More Nintendo Switch news and updates
For more info on Nintendo's new console, check out our hands-on review of the Switch, along with details on the Nintendo Switch price, release date, pre-orders and battery life. If you're interested in the Nintendo Switch's games, here's info on the new Super Mario Odyssey game, Legend of Zelda: Breath of the Wild, Splatoon 2, Xenoblade Chronicles 2, 1-2-Switch and the goofy boxing game Arms.