4 storylines to watch ahead of Super Bowl LI: New England Patriots vs. Atlanta Falcons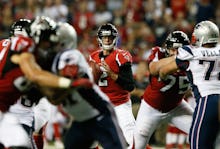 The Atlanta Falcons and the New England Patriots are meeting for Super Bowl LI on Feb. 5 in Houston. Here's what to pay attention to ahead of that contest:
David and Goliath
The Patriots – much to the chagrin of anyone who is not from New England – are a perennial playoff team with four championships in the Tom Brady/Bill Belichick era. Then you've got the Falcons – a team whose franchise record is below .500 and have gone to just one Super Bowl before, which they lost. Despite how evenly matched these two teams appear to be, this one will almost certainly be framed as a showdown between David and Goliath – and probably a high-scoring one at that. 
Tom Brady looks to cement his G.O.A.T. status
Tom Brady is a dopey, sorta-maybe Trump-supporting probable deflator of footballs. But he is also a three-time Super Bowl MVP, a two-time regular season MVP, a 12-time Pro Bowler and a four-time Super Bowl champion. With one more Super Bowl win, he'll surpass quarterback greats Joe Montana and Terry Bradshaw. He's already likely the greatest quarterback in the history of the game – a win Feb. 5 would make it extremely tough to argue otherwise.
Roger Goodell and Tom Brady post-Deflategate
The NFL botched its handling of Deflategate. Now, league commissioner Roger Goodell might have to share a stage with the quarterback he suspended for four games at the beginning of the season, forcing the two to smile awkwardly as they pose with the championship trophy. This would be the silver lining of a Pats victory.
Matt Ryan gets his shot at glory
Falcons quarterback Matt Ryan has put up solid numbers over the course of his nine-year career, but he's so far had nothing to show for it. Before this year's campaign, his Falcons had won just one playoff game. Now, as the MVP favorite, Matty Ice has a shot to lift his team to its first ever Super Bowl win and potentially earn him recognition as one of the best players of his era.