'Split' star Betty Buckley on the M. Night Shyamalan film's controversy and ending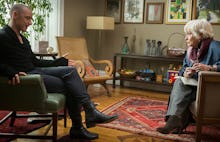 Betty Buckley has come a long way since she saw her first scary movie. On a family outing to see The War of the Worlds in 1953, the five-year-old child had to leave the movie theater and be calmed by her father in the lobby. 
"I remember being shaken to my core," Buckley says in a phone interview with Mic, adding the book The Exorcist as another title that kept her up at night. But the Emmy-nominated and Tony-winning actress appears to have conquered her fear of suspense thrillers. Buckley is now starring in M. Night Shyamalan's latest movie, Split, alongside James McAvoy. McAvoy plays Kevin, a man with Dissociative Identity Disorder who kidnaps a group of young girls with sinister and terrifying motives. A victim of childhood abuse, Kevin has developed 23 different personalities, and some of them speak of a 24th, known only as the Beast. Buckley plays his psychologist, Dr. Fletcher. 
Split marks Buckley's second collaboration with Shyamalan. In 2008, she was cast in The Happening, and she has long admired his work. Buckley savored the opportunity to play Dr. Fletcher and explore a character with multiple personalities, a subject that has fascinated her since she first saw the movie The Three Faces of Eve, as well as read the book Sybil and watched its film adaptation. 
Buckley, who shared that she had been in analysis for many years, dived into research and preparation for her role in Split, reading numerous books and working with a New York-based psychologist to develop the appropriate professional manner for her character, who, she remarked, was a departure from how women her age are often portrayed in film. 
"My character is together and the kind of the cornerstone of the movie — the truth-teller and narrator," she says. "I was teasing [Shyamalan], saying he's come quite a way. Generally speaking, the white-haired lady in the movie is somewhat deranged and always comes to a strange end."
Protests and boycotts against Split
The film earned mostly positive reviews, with many critics praising McAvoy's performance and the pace and technique, but others calling the film exploitative. 
Split is hardly the first movie that features a character struggling with mental illness: Psycho, Misery and Silence of the Lambs are just a few. But the film has inspired a strong reaction from various communities, including a petition posted on Care 2 calling for a boycott of the film due to its portrayal of mental illness and gender identity. And the Mighty, an online mental illness support community, wrote an open letter to Shyamalan to "inform [him] of the harm" the film could cause. 
Split's ending (without spoilers)
The film's conclusion sparked numerous conversations about its portrayal of survivors of abuse. But Buckley praises Shyamalan's approach to the subject, saying, "I loved that aspect of Night's perspective in terms of taking this true disorder into the realm of fantasy. These people who have suffered really have an extra dimension of experience that makes them potentially more powerful, that they could view it that way. I thought that was really fascinating and I loved that part of it very much." 
"I think Night was very interested in the potential of the human mind," she continues. "And science has proven that we as the human species — we've evolved to a certain place, but there's so much more of our mental capacity that we still don't know about and still haven't tapped into ... I think part of what Night is trying to say is to consider what you're capable of. It's so much more than you sometimes give yourself credit for." 
Mic has ongoing movie coverage. Please follow our main movie hub.