Donald Trump, after thinking Madonna wanted to date him, now thinks Madonna is 'disgusting'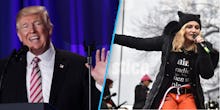 Madonna has been called many things during her career: innovator, icon, game changer — and POTUS has just added one to the list. 
President Donald Trump, who has mocked a reporter living with a disability and bragged about grabbing women by the genitals, thinks Madonna is "disgusting," according to an interview he gave to Fox News' Sean Hannity on Thursday. 
"Honestly, she's disgusting," Trump told Hannity. "I think she hurt herself very badly. I think she hurt the whole cause. I thought her, and a couple of others. But I thought she was in particular — I thought what she said was disgraceful to our country."
Trump was probably referring to Madonna's controversial comment that she'd "thought an awful lot about blowing up the White House," which she delivered to a crowd at Saturday's Women's March on Washington, D.C. Madonna obviously did not do that and explained in her speech that she decided to "choose love" instead. 
Despite advocating grabbing women by the genitals, Trump finds a lot of women "disgusting." He once described an attorney seeking a room to breastfeed as "disgusting," and described former Democratic presidential candidate Hillary Clinton as "disgusting" for using the restroom during a debate. 
While Trump loves to lob the word "disgusting" at women, that's not always been his stance on music superstar Madonna. As the Daily Beast reported, Trump has a long record of lying about the star wanting to date him. He reportedly fawned over her at a 1989 boxing match. In 1990, his spokesman John Miller — who turned out to be Trump himself — told People that Madonna had called Donald Trump flirtatiously several times, which was untrue. 
Madonna has defended her Women's March comments on Instagram, saying: "I am not a violent person, I do not promote violence and it's important people hear and understand my speech in it's entirety rather than one phrase taken wildly out of context."
Even though Trump has an inability to deal with criticism, he shouldn't have such a huge problem with Madonna's comments. If his inauguration is any indication, he's used to getting rejected by musicians.