Galaxy S8 pre-order and release date 2017: Price, sizes, features, specs and more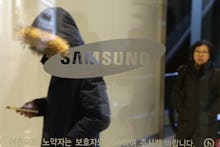 The Samsung Galaxy S8 reportedly has a release date. According to VentureBeat, the flagship smartphone — which will come in two sizes: a 5.8-inch model and a 6.2-inch model — unveils on March 29 in New York City and goes on sale on April 21. The Wall Street Journal first reported that Samsung will not make its usual announcement at the Mobile World Congress trade show in Barcelona in light of the Samsung Galaxy Note 7 mishap.
The South Korean tech giant appears to be betting big with the S8, as Korea's the Investor reports Samsung is preparing to ship 60 million devices. For scale, the company's current total for the Samsung Galaxy S7 is around 48 million handsets.
Galaxy S8 price
As for prices, there is no official word on how much the two models, code-named Dream and Dream 2, will retail for. That said, Twitter user @Ricciolo1 claims a "little bird" has disclosed the device will start at $849, reports BGR. This falls in line with the VentureBeat report citing that both smartphones will cost €100 ($107) more than the S7s in Europe, putting the smaller model at €799 ($855) and the larger model at €899 ($962).
Galaxy S8 screen
Both S8 devices will feature QHD Super AMOLED screens, which will make up 83% of the front panel of the device, the Guardian reports, citing unnamed sources. The handsets will supposedly be similar to the Samsung Galaxy S7 edge in that they will "have screens that curve down at the left and right sides of the device" and CNET reports the device will have a pressure-sensitive screen similar to Apple's 3D touch. This new design moves fingerprint scanner to the back of the smartphone.
Galaxy S8 headphone jack
While initial speculation suggested the flagship phone will be missing a headphone jack like the iPhone 7 and iPhone 7 Plus, sources told the Guardian that the device will be equipped with a "traditional 3.5mm headphone socket."
Galaxy S8 iris scanner
The Note 7, which is discontinued after the device and replacement devices overheated and caught on fire, featured an iris scanner. The S8, which will have a new processor, is reportedly going to utilize the same iris scanning biometric technology, allowing users to unlock their handset and make purchases using their eyes.
Galaxy S8 S Pen stylus
Another Note 7 feature, support for the S Pen stylus, will be available for the S8 as an optional accessory, GSM Arena reports. For the Note 7, the S Pen Stylus was water- and dust-resistant. It came with features like translation services and the ability to create animated images, says CNET.
Galaxy S8 digital assistant
The next Galaxy device is confirmed to have an artificial intelligence digital assistant service, according to Reuters. Samsung acquired Viv Labs in October, which is run by a co-creator of Apple's Siri, and a recent trademark query by Samsung has sparked rumors that the digital assistant will be called Bixby.
Galaxy S8 camera
Previous reports suggest the S8 would have a powerful auto-focus, front-facing camera instead of "fixed focus-type front-cameras," which means those who use the front-facing camera can capture higher-quality images.
"People are starting to take more selfies and the number of demands for cameras that take selfies with higher qualities is increasing," an unnamed industry representative told ETNews. "It is heard that Samsung Electronics has decided to install front actuators for Galaxy S8 in order to differentiate its flagship smartphone."
In a report, the Guardian outlined more features of the device's camera:
The Galaxy S8 will have a similar "duo pixel" camera to last year's Galaxy S7, situated on the back of the device according to two sources, with incremental improvements to image quality, low-light performance and speed. The camera will also feature built-in object recognition, similar to Google Goggles, according to several sources.