'Overwatch' Characters: These amazing fan-made Lego figures are absurdly detailed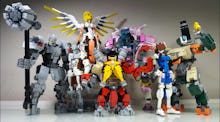 Something about the colorful cast of Blizzard's multiplayer shooter Overwatch inspires a lot of incredible fan creations, from cosplay, to amazing art, to functional weapon replicas, to cupcakes — and now, to custom-built Lego figures.
A Korean YouTuber has several videos on his channel that show some amazingly detailed creations of several different Overwatch characters that can move and transform, just as their respective characters do.
Overwatch Characters: These Lego creations are amazing
His Lego version of the tank hero D.Va includes two separate figures so she can sit in her mech or stand on her own.
And his Lego version of the defense hero Torbjörn includes several different versions of his pesky turrets — one for each of its stages as Torbjörn upgrades it with his hammer.
And his figure of Bastion can actually transform from recon mode to sentry mode with a few adjustments.
The full video, embedded below, also includes really cool interpretations of Reinhardt, Mercy and Genji.
If you want to see more of the Overwatch cast in Lego, his channel has detailed videos of additional Overwatch characters, like Soldier: 76, Pharah and Reaper. Check it out!
More Overwatch news and updates
For more on Overwatch, check out the rest of what Mic has to offer. Here is the latest developer update where Overwatch director Jeff Kaplan explains the new Capture the Rooster mode, the full patch notes for Overwatch version 2.03, a full explanation of the different types of health in Overwatch, the latest rumor of a Terry Crews-voiced Overwatch character, our definitive ranking of every Overwatch hero, a roundup of awesome gender-bent Overwatch cosplay and a giant Overwatch FAQ for beginners.