Texas teacher who shot Donald Trump's image with a squirt gun put on administrative leave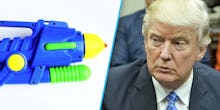 Payal Modi, an art teacher at Adamson High School in Dallas, was put on administrative leave after a video apparently showing her saying "die" while shooting an image of President Donald Trump with a squirt gun was posted on her Instagram account.
The original video posted to Instagram appears to show Modi in front of a video projection of Trump arriving at his inauguration ceremony, according to Dallas News.
The video quickly drew criticism from Trump supporters, some of whom argued Modi should be removed from her job. In one poor imitation of an Anonymous video, a person in a Guy Fawkes mask and computerized British accent says Modi "thinks it's okay to teach children to hate our president" and that she should be fired and the Dallas Independent School District "should apologize to our president."
Another video, posted on a clearly pro-Trump Facebook page titled "Deplorables Inc," currently has 50,000 views and features a disembodied voice that says Modi's video is proof of "liberal lunatics... getting triggered by President Donald Trump" and asks viewers to share it to "spread the mental disability that this woman has."
The DISD released the following statement, according to Dallas News:
"Today, we were made aware of a social media posting being circulated involving a teacher at W. H. Adamson High School. The teacher has been placed on administrative leave and the district has opened an investigation. This is a personnel matter and, as such, we cannot comment."
Mic attempted to contact Adamson High School for comment but the phone lines were disconnected. When Mic attempted to contact the DISD, an automated message stated that all lines were busy.