Super Bowl Prop Bets 2017: Lady Gaga, Gatorade color, coin toss and more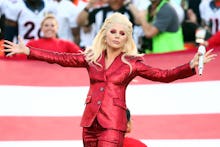 What color Gatorade will the winning coach get drenched in this year?
That's among the prop bets you can place on Super Bowl LI if the likely shoot-out between the New England Patriots and Atlanta Falcons in Houston doesn't interest you. 
Here's a quick look at this year's props:
Lady Gaga
There are a great many bets you can make on Lady Gaga's halftime performance, from what songs she'll include in the show (Bad Romance is a lock with 1/1 odds) to the color of her hair (blond and brown lead the pack at 2/3 and 3/1 respectively) to whether she'll make some sort of statement against President Donald Trump (10/13 odds say she will). 
Gatorade color
As the game ends, the winning head coach will be subjected to the traditional Gatorade shower. In the last three Super Bowls, the Gatorade has been orange twice and blue once. Clear, green, yellow and orange lead the pack at +300 this year, according to OddsShark. 
Coin toss
The odds for the opening coin toss are, well, a toss up. According to OddsShark, heads has come up 24 times and tails 26 times in 50 Super Bowls so far. 
Odd props
If you can dream it, you can bet on it. What pattern ties will announcers Joe Buck and Troy Aikman be wearing? How many commercials will feature former quarterback and Papa John's pitchman Peyton Manning? And how long will Luke Bryan's national anthem take? All solid bets.
One of the best: Will Trump tweet more than five times during the game? Yes is at +105 and no is at -125.
Very specific game-related props
The Westgate Las Vegas Superbook opened with close to 400 props. These bets include Super Bowl MVP (Tom Brady is the favorite to win his fourth trophy, followed by Matt Ryan), the player to score the game's first touchdown (Julio Jones, Julian Edelman, Chris Hogan and LeGarette Blount are all 8-1) and whether or not there will be a missed extra point kick (yes is at +330 and no is at -400).
The Super Bowl will be played Feb. 5 in Houston. The Patriots are three-point favorites.