How to get wings in 'Diablo 3': PS4, Xbox One and PC guide, tips and tricks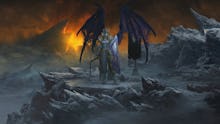 While you wait to hear more about Diablo 3's upcoming Necromancer expansion, why not try to get some sweet cosmetic upgrades for your current characters? You've probably seen other players rocking the avian appendages and wondered how to get them for yourself.
That's what we're here for. Read on for a step-by-step guide to getting wings in Diablo 3, whether you're playing on PS4, Xbox One or PC.
How to get wings in Diablo 3
According to a post on the game's official forums from May 2016, there are 11 sets of wings in Diablo 3. Unfortunately, many of them aren't exactly accessible through normal play. 
For example, the white Angelic Wings came with the collector's edition of the game. The forum post advises you to search eBay for a boxed copy and hope the key code for the wings hasn't already been used. Good luck with that. You can also get a set of Mercy's wings from Overwatch with a purchase of that game's Origins Edition.
Of course, some of them can be gotten in the game through normal means too. You can get Cosmic Wings for killing the rare unicorn enemy Princess Lilian in Whimsydale, for example. Check out that forum post for more information on how to get some rad wings for your Diablo 3 character.
Some of these methods may only work for one particular platform, but considering all your different options it shouldn't be too hard to get wings in Diablo 3 for your character no matter which version of the game you have.
More gaming news and update
To find out what else is happening in the world of gaming, check out our coverage of Super Mario Run's Android release, Robin in Injustice 2, the Evo 2017 lineup and the aliens in The Sims 4.