A nod to Afro-Latinos: Here's why you should binge-watch 'Celia' for Black History Month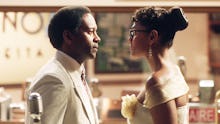 With February being Black History Month, you may be wondering what to watch. While the time for honoring black leaders, communities and culture is always right, now is a chance to be more conscious of your viewing choices. After all, black lives matter — and that bears repeating under the Trump administration. 
Of course, African-Americans aren't the only black people out there. Afro-Latinos are one of several other black cultural groups that many Americans often forget exist. But after binge-watching Telemundo's Celia, you're unlikely to make that mistake again. The nearly 60-hour telenovela, which focuses on the life of Cuban singer Celia Cruz, joined the Netflix lineup in October, around the time of National Hispanic Heritage Month.
A quick note for non-Spanish speakers: Don't let the Spanish-language element scare you. If you don't understand Spanish (particularly Cuban Spanish), you can switch on English subtitles. While they don't quite capture the full flavor of the Spanish dialogue, they show good translation in action. They're well-written and don't detract from the story.
Paying tribute to Afro-Latinos
Whether you love Latin music or not, you've likely heard of Celia Cruz. Even if you haven't, you've probably heard her hits like "Oye Cómo Va" and "La Vida Es Un Carnaval" and not even realized it. Celia pays plenty of fan service with its music, but still manages to be accessible to viewers who aren't as familiar with the prominent singer. 
Celia starts by introducing the music teacher and aspiring singer in pre-Castro Cuba. In doing so, the viewers learn of Cruz's particular challenges as a black woman in 1950s Cuba. Even though she was born and raised in the Caribbean country, some lighter skinned Cubans treat her like an outsider. 
Celia depicts plenty of instances of overt and more subtle racism toward Afro-Latinos. Take Cruz's friendship with Lola, a fellow singer who is light-skinned. Lola's racist stepfather forbids his daughter from spending time with Cruz because she's black. Though she finds ways to skirt her stepfather's rules, Lola takes a risk by befriending Cruz. Her choice would not be approved in many of Cuba's upper-class (e.g. white) social circles. Cruz endures offensive comments from Lola's stepfather out of love for her friend. Still, his words clearly bother her. 
Unfortunately, Lola's stepfather isn't the only one trying to exclude and denigrate Cruz for her race. Even after she starts to achieve fame, Cruz almost doesn't get into a cabaret club because she's black. The bouncer takes one look at her and tells her the club is full. She's admitted only after another employee informs the bouncer that Cruz is a rising star.
At the professional level, Cruz faces discrimination because of her African features. When Cruz and her lighter half-sister, Noris, run into a talent scout at the train station, the scout gives Noris a chance to sing. But he's not interested in hearing Cruz. She has to open her mouth for him to give her a chance. Once he hears her sing, he realizes his mistake and invites her to participate in a national singing competition. She wins and gets a contract to sing in La Sonora, a famous band, because of it. Still, the battle has only just begun. Some of the band's fans don't like that Cruz replaced La Sonora's white singer, and they write the record company to complain. 
Despite these hurdles, Cruz keeps singing and ultimately becomes wildly successful. Celia takes viewers along for the emotional journey. It's the perfect reminder of how far Latin America and the United States have come in terms of race relations — and how much work there's left to be done.