Madeleine Albright and celebrities pledge to "register as Muslims," but that's not how it works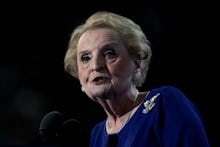 On Wednesday, former Secretary of State Madeleine Albright tweeted that she was "ready to register as Muslim."
Albright joined the ranks of activist Gloria Steinem and actress Mayim Bialik in pledging acts of solidarity with the Muslim community, lest the time comes when President Donald Trump enforces a database on Muslim-identified individuals.
"I was raised Catholic, became Episcopalian & found out later my family was Jewish," Albright tweeted. "I stand ready to register as Muslim in #solidarity."
While these prominent women and allies might have good intentions, such pledges will be ineffective in resisting or duping the federal government. 
People can't voluntarily register as Muslim
We've been through this before. 
In response to 9/11, the George W. Bush administration created the National Security Entry-Exit Registration System, often referred to as "Special Registration."
According to CNN, the system mainly targeted Muslim and Arab men. Under NSEERS, the federal government required visa holders from a list of 25 countries to register and provide their own biodata. With the exception of North Korea, all the countries were majority Muslim. Males older than 16 in the United States who were visa holders from one of the 25 countries were required to register. 
Muslims and Arabs were told to report to the Department of Immigration and Naturalization Services — now the Department of Homeland Security — within a certain period of time. If they failed to register with NSEERS before the deadline, they would face threats of detention and deportation, Dr. Maha Hilal, executive director for the National Coalition to Protect Civil Freedoms, told Mic.
That's what happened to "Mr. D," a 19-year-old Algerian student-athlete, according to the American-Arab Anti-Discrimination Committee. Mr. D attended Western Michigan University under a student visa and, as a foreign student, was required to register with NSEERS. Due to a car accident, Mr. D missed the deadline by one day — and though he provided legitimate documentation to prove unforeseen circumstances, he was charged with "failure to comply with NSEERS." 
Mr. D was then forced to go through deportation proceedings.
"People were given leaflets and information they had to register within a [certain] period of time," Hilal said. "They were required to report to certain stations where they were photographed and had their biodata collected."
The federal government would also register immigrants or tourists from the list of countries before they entered the United States. This was required for people whose country of origin was Iran, Iraq, Libya, Sudan or Syria — including those who also held dual U.S. or European citizenship. 
NSEERS had a devastating impact on Arab and Muslim communities. According to the ADC, 14,000 Arab and Muslim visa holders who registered with NSEERS were deported. Not a single registrant was charged with terrorism. Hilal said many Arab and Muslims also faced detainment before deportation.
Hilal found Albright's pledge of solidarity to be hypocritical, considering she had a hand in the implementation of NSEERS during her time as secretary of state.
"I was very surprised," Hilal said. "[Albright] making the statement of solidarity obscures the fact the policy was under [the] Bush administration and that it deliberately targeted Muslims. To me, it's an exercise of hypocrisy."
"Her comments suggest that Trump's proposal for a Muslim database is some new feature of fighting terrorism, as opposed to something engrained in the war on terror since 9/11 that included her involvement," Hilal added.
If Trump's proposed Muslim database is similar to NSEERS, it would be impossible for Albright to voluntarily register as Muslim. But for those who do want to show solidarity and resist the concept of a Muslim database in a real way, Hilal has some advice. 
"One of the biggest ways is to put pressure on local city council members to affirm their city will be a sanctuary city to protect refugees, immigrants and Muslims," Hilal said. "What happens at [the] local level is what will impact the daily lives of all of them."