Get over your 'Sherlock' withdrawal with these 6 detective shows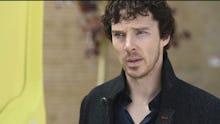 It seems like only a few weeks ago we were talking about the premiere of the long-awaited fourth season of Sherlock — well, probably because it was only a few weeks ago. If there is one flaw to the detective series, it is that fans get to enjoy three incredible 90-minute episodes, but then are left waiting for years before the show comes back. 
This time, the series' return seems less certain. The first, second and third seasons of Sherlock ended on tantalizing cliffhangers that had to be resolved. That is not the case this year. The fourth season concluded in a way that really felt like a series finale. So while Sherlock's return for a fifth season remains ambiguous, it is best that we start to move on. 
To help ease the burden of a potential Sherlock-less reality, here are six great detective shows that you should check out when the withdrawal gets to be too much to handle. 
Luther
Let's just face the facts, BBC knows how to create a stellar detective series. And if you are a fan of Sherlock, but have not yet checked out Luther, you should absolutely add it to the list. The series, which stars Idris Elba as the crime-obsessed titular character, ran for four seasons, each receiving considerable critical acclaim. 
The series has been nominated for several high-profile awards, with Elba taking home prizes at the Golden Globes and Screen Actors Guild Awards, while also receiving nominations at the Primetime Emmy Awards. While there has been no official word on whether there will be a fifth season of Luther, Elba has stated on his Twitter account that it is a possibility. 
You can currently watch all four seasons of Luther on Netflix. 
Elementary 
If you feel the only way to solve your Sherlock-related withdrawal is with more Sherlock Holmes, you do have a stateside option. While I will be very careful not to suggest that Elementary has anything on Sherlock, that does not mean the series is not enjoyable in its own right. 
Much like Sherlock, Elementary is a modern-day retelling of Arthur Conan Doyle's literary creation. In Elementary, the action moves to New York City, where Holmes, played by Jonny Lee Miller, is a recovering drug addict who relies on his sober companion, Joan Watson, played by Lucy Liu. The series follows a straightforward procedural format, which makes it rather easy to jump in at any point. 
The series, which for the most part has been widely acclaimed, is currently airing its fifth season on CBS. Previous seasons of Elementary can be found on CBS All Access. 
Burn Notice
While Burn Notice technically does not feature a detective, it is close enough to count. And although the tones of Burn Notice and Sherlock could not be more different, there is a surprising amount the two series have in common. Burn Notice starred Jeffrey Donovan as Michael Westen, a burned spy, who finds himself in Miami, and is determined to figure out who is responsible for his burn notice. 
The series ran on USA for seven seasons and was generally well-received by critics. Michael Westen and Sherlock Holmes are drastically different characters, but the two both take on clients that have nowhere else to turn. Further, they both utilize their vast collection of random knowledge to help solve seemingly unsolvable problems. 
All seven seasons of USA's Burn Notice are currently available on Netflix. 
Ripper Street
Let's go back to British television for a moment. While Ripper Street may not have the same name-recognition as Luther or Sherlock, it is still one of the best detective shows you probably have never seen. Ripper Street lasted five seasons on BBC One (and later BBC Two), and begins several months after the last suspected murder by the notorious Jack the Ripper. 
The series has received generally positive reviews (at least for the first season), and is a solid option for anyone interested in a period detective series. The first four seasons of Ripper Street are currently available on Netflix. 
House
Is House a detective series? Well, in a manner of speaking, yes. The show, which starred Hugh Laurie as the irreverent Dr. Gregory House, each week featured a new medical mystery that had to be solved against all odds. The fact that House had to consistently decipher mind-bending puzzles, though, is not the only reason that the series serves as a great Sherlock placeholder. 
The character of Gregory House is actually largely based off Sherlock Holmes. Other than the obvious similarities between House and Holmes, like their observational talents and lack of appropriate social skills, the pair have quite a few things in common. Both Holmes and House have a best friend with the initials J.W. Holmes has John Watson, while House relies on James Wilson. 
There is also the fact that both Holmes and House have had a history of drug abuse. While Sherlock's vice may be heroin and cocaine, House has a long history with Vicodin addiction. Should you want to try and discover even more similarities between Holmes and House, you can watch all episodes of House on Netflix. 
True Detective 
This one may be a bit obvious, but that does not mean it would not serve as temporary relief from that horrid Sherlock-related withdrawal. Even if you have not seen True Detective, you are probably aware that it is a divisive series. While the first season received considerably positive reviews, the second season, which featured a new cast and story, garnered decidedly mixed responses. 
Even if the second season is a steaming pile of narrative garbage (just one opinion), the first season was so well done that it is absolutely worth watching if you have not already seen it. The good news is that since True Detective is an anthology series, you can enjoy season one without worrying that the second season would ruin the former. And hey, nobody will stop you from checking out season two and judging it for yourself.
Both seasons of True Detective are available on HBO Go, and for cord-cutters, HBO Now. 
Mic has ongoing coverage of Sherlock. Please follow our main Sherlock hub here.