7 Kehlani lyrics from her new album that show how she's surviving past drama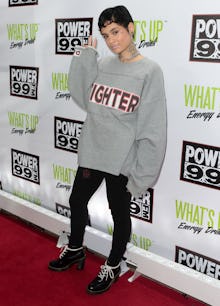 Relationship drama isn't uncommon for teens and young adults alike. For singer Kehlani, in 2016 at 20 years old, frictions in her dating life played out quickly in social media and led to a scary suicide attempt. This incident showed the ill twist to sharing anything intimate in the super-exposed world we live in. Kehlani, who continued to get attacked by trolls after the event, still found a way to stand strong, speaking out about mental health awareness at a show in May.
But now, almost a year later, the Oakland native has taken what felt like a powerless moment for her and channeled that severity into a collection of 19 songs of survival and empowerment. On SweetSexySavage, released Friday, she performs with feminine vulnerability and sway, an intersection illustrating her humanity. The album's title is exactly what you get: throughout the album, we hear sweet, sexy and savage versions of Kehlani. 
"I'm just trying to be successful in my own terms and be happy and be healthy and that's it. I've definitely grown up faster, and seeing a lot of crazy shit go down definitely just made me focus on the bigger picture," she recently told Elle.
The Grammy-nominated singer is strong vocally and brings mostly mid-tempo feel-good, danceable, hip-hop-driven R&B. There are also samples of R&B and hip-hop acts from before her time, including New Edition, Aaliyah and Akon.   
Kehlani is still working through healing on this album, but she's clearly gained some clarity. With that being said, here is a look at seven moments on SweetSexySavage that show how Kehlani is surviving previous drama. All lyrics below are via Genius. 
All said and done you lost my respect
On this Aaliyah-sampling track, Kehlani lets the individual who brought her pain in the past know she hasn't lost her focus on what she came to this world to do.
Won't be numb again (numb)
Kehlani is working through residual feelings from an emotionally conflicting chapter in her life on this mid-tempo vibe filled with floating melodies. She's starting by getting back the things she once loved to do. She hasn't completely healed, but she's well on her way. 
They be tryna count me out though
Kehlani does a sing-rap flow on a much harder beat, showcasing her versatility. She's proclaiming that she won't allow herself to be counted out of what she deserves. 
I almost crashed and fell right from the sky
On the low-tempo, weeping track written by Kehlani, she's at a crossroads and deciding whether she wants to stay with a man who is causing her pain or move forward.  
Never seen a nigga be a real man
On this trap-soul track, Kehlani realizes her past is blocking her from falling in love with someone that she knows is good for her. By coming to terms with the struggles of her upbringing she is beginning of the process of possibly carving a new path of love for herself, one that's different from her past experiences.
Something I will say
"Too Much" reveals Kehlani's savage side as she tells an ex that she's over him emotionally — but doesn't mind having him physically. The thing is, he still wants more, but her straight, no-chaser honesty must be acknowledged. 
Thank you for watching me walk across the stage
Although Kehlani has faced a series of difficulties — especially in the last year — her fans and those who support her have helped her get past thoe trials. She shows her gratitude on "Thank You," a tracked backed by a gospel-style choir.
Mic has ongoing Kehlani coverage. Please follow our main Kehlani hub.