'Pokémon Go' Chinese New Year Event: Why a lunar celebration update probably won't happen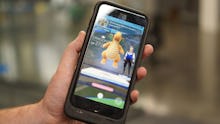 It's probably time to stop hoping for a Lunar New Year event in Pokémon Go. An update marking the start of the Chinese lunar calendar almost certainly isn't happening. Here's why.
Niantic announced some of its Pokémon Go Christmas holiday events on Dec. 12, well in advance of the holiday, and revealed the rest of the Christmas surprises on Dec. 23.  Pokémon Go's Halloween celebration was revealed Oct. 24, a full week before the holiday.
Considering that the Lunar New Year world celebration occurs Saturday, we're pretty sure at this point that there will be no Lunar New Year holiday event in Pokémon Go.
Pokémon Go Chinese New Year event: You can't play the game in China
One reason Niantic might not be celebrating Lunar New Year is because a huge number of the people celebrating the holiday are not allowed to play Pokémon Go.
Pokémon Go is not available in Chinese app stores, on account of the Chinese government's concern over security risks. A Chinese development studio, however, ripped off the Pokémon Go concept and created a clone of the game called City Spirit Go.
The Lunar New Year is celebrated across Southeast Asia as well, including many countries that do have access to Pokémon Go like Cambodia, Indonesia, Malaysia, Taiwan, Thailand, Singapore and Vietnam. But apparently that's not enough to justify an update from Niantic.
Pokémon Go Chinese New Year event: What players wanted from an update
Niantic has done a good job thus far of reflecting the holidays that Pokémon Go has celebrated. One idea for a Lunar New Year's event would have been increased spawns of Dratini and Magikarp, the Pokémon that can eventually evolve into the dragon-type creatures Dragonite and Gyarados respectively.
2017 is the Year of the Rooster on the Chinese lunar calendar, and so another idea would have been an increase in spawn rates for bird-type Pokémon such as Pidgeys and Spearows, among others. 
They're not bad ideas. They're also not happening. Maybe next year Niantic will be able to celebrate the holiday with a Pokémon Go Chinese New Year event.
More Pokémon Go guides, tips, tricks and updates
Check out Mic's Pokémon Go tips and tricks. Here are guides on how to get stardust, how to determine how long it will take you to reach level 40, the kind of Pokémon you get from 10km eggs, how to create new PokéStops, how to maximize your chances of catching Pokémon and how PokéStops distribute Pokémon eggs. Also check out how to catch Gen 2 baby Pokémon, our analysis of post-balance update Chansey and Rhydon and everything you need to know about finding the long-awaited Pokémon Ditto.