Who is Michael Glatze? The true story of the 'I Am Michael' movie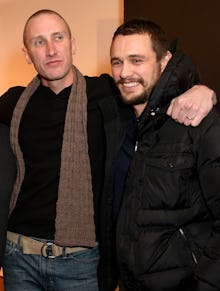 I Am Michael is finally hitting theaters two years after premiering at the Sundance Film Festival. The drama, directed by Justin Kelly, stars James Franco and Zachary Quinto. But this festival film is not your average drama — it's based on the life of gay rights activist turned Christian pastor Michael Glatze. 
Before watching the movie, check out some facts about the true story. 
Who is Michael Glatze?
Born in Tacoma, Washington, in 1975, Glatze was an openly gay man who worked as a gay rights activist. He started off as the managing editor of XY magazine in San Francisco before teaming up with his boyfriend, Benjie Nycum, to launch the publication Young Gay America in 2004. According to Gay City News, Young Gay America wasn't just a magazine, but an organization aimed to "save lives by educating and informing queer youth about their importance to society." Glatze was making a difference in the world. However, after a health scare made him turn to God, Glatze eventually became "born again." In an essay posted on World Net Daily in 2007, Glatze renounced his homosexuality, as well as all the meaningful work he did at XY and YGA.
The New York Times Magazine story
Glatze's decision made headlines in 2011 when Benoit Denizet-Lewis, a former colleague from XY, wrote a piece for the New York Times called "My Ex-Gay Friend." In the story, Denizet-Lewis rehashed Glatze and Nycum's relationship, and how the two seemingly figured out how to be "young, gay and happy." He also explained how passionate Glatze had been about helping gay youths prior to becoming born again.
"God creates us heterosexual," Glatze told Deniset-Lewis. "We may get other ideas in our head about what we are, and I certainly did, but that doesn't mean they're the truth."
Michael Glatze's wife and life
Glatze moved to Wyoming to study to become a pastor. He began dating Rebekah Fuller in 2011, shortly after the New York Times article came out. The two wed in in October 2013. He wrote in a post for World Net Daily that his first month of marriage was the "greatest" of his life. 
I Am Michael
I Am Michael is based on Deniset-Lewis' article. Glatze watched the film after it premiered at Sundance at told vlogger Jake Reynolds that the film was helping him heal.
"Life is starting up again. It's almost like a new life. I thank James Franco for that. I did. I sent an email for him and I said 'thank you so much for your interest in the project' because it has been the spark to a gigantic healing process for so many people in my world, and now we can rejoin the rest of the world."
I Am Michael was released in limited theaters, as well as video on demand, on Friday.