D.C. gay bar JR's under fire after manager requests "hot white guy" instead of black model on ad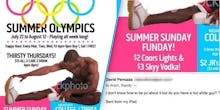 The manager of Washington, D.C., gay bar JR's is defending himself against charges of racism after a leaked email from 2012 showed him requesting a "hot white guy" instead of a black man on an advertisement. 
Aram Vartian, then a graphic designer at LGBT publication Metro Weekly, had been commissioned to create an ad for the bar, which was hosting an Olympics-themed happy hour. Vartian sent along a proof that included a shirtless black model. 
"I don't know how to be [politically correct] about it but do you have a hot white guy?" reads the email from David Perruzza. "That's more our clientelle [sic]." 
Vartian leaked the email Wednesday, after which Perruzza responded on his personal Instagram. 
Perruzza sidestepped the race issue, saying that all of the photos Vartian suggested for the ad were "awful" and claimed that JR's is now one of the most diverse bars in the city. 
"A guy stretching had nothing to do with the Summer Olympics," Perruzza said in a phone interview. "I ended up just using the Olympic rings." 
Perruzza further defended his remarks: "I won't apologize for it, because I don't think there's anything wrong with that for what was going on at the time," he said. "Everything was Abercrombie models and pretty boys." 
Perruzza said the full email chain tells a different story, and that his statements were taken out of context. Vartian shared the full email chain with Mic. The chain shows Perruzza, unprompted, offering feedback asking for a "hot white guy" based on his clientele. About a half hour later, Vartian responded with "First, don't actually put that in writing again." 
Perruzza explained that the D.C. bar scene was more segregated four years ago, when he said there were more bars that catered to black clientele. At the time, he estimated that his bar was only about 10% black.
But Vartian said this amounted to placing blame on customers. Beside ignoring the 10% of his customers who were black, Perruzza assumed his white customers would be turned off by a black model. 
"He can't blame the customers, like 'I'm going to show them a white guy,' like your customers are white guys who only want to look at white guys," Vartian said. 
Vartian leaked the email after an argument with Perruzza about protests in Washington, D.C., during the inauguration of President Donald Trump.
"He irked me. He pissed me off. We got into an argument, and it got heated," Vartian said. "It's not a noble way to put it out there, but I'm glad the information is out there." 
Vartian said he hadn't leaked the email at the time of the correspondence because he was still living and working in Washington, D.C., and was worried about a possible backlash. "That's cowardly on my own part," he said. 
On Twitter, popular Washington, D.C., account DCHomos shared the leaked email, which prompted some responses from community members, including one Twitter user who said he stopped attending JR's because it's "not POC friendly." 
One patron shared the image on JR's Facebook business page along with the caption, "For any POC who ever wondered why you felt uncomfortable here." 
Perruzza said JR's is warm and welcoming to people of color, pointing to themed nights like Arabian Nights, where once a month Perruzza says they play "Muslim music" and community members, many Muslim but not exclusively, come out to dance. 
"Arabian Nights is racist to begin with," Vartian said, slamming the manager for failing to take responsibility for his actions. "That inability to think five feet beyond yourself just breeds a culture of racism. In our bars, the places you run to for safety, you can't create that culture. You have to face what you're doing." 
Perruzza said on Friday that his bar's current ads are more diverse, and one shows a mixed-race couple locking lips. 
"If you look at most of our ads, most don't have people in them," Perruzza said. "Unless we have ginger night, then it's obviously a ginger person."