Donald Trump just confirmed what he meant by "extreme vetting": a ban on Muslim refugees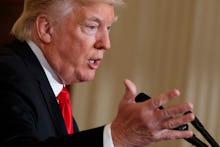 In an exclusive interview with Christian Broadcasting Center's The Brody File on Friday, President Donald Trump revealed that his call for "extreme vetting" of refugees entering the United States was a polite euphemism for a ban on Muslims.
David Brody, the host of the television program, asked Trump if his executive order — expected to be signed on Friday — issuing a 120-day ban on all refugees entering the U.S. would affect Christian refugees overseas. 
Trump told Brody that Christian refugees would be a major priority of his since he believes they are facing religious persecution in the Middle East. He then reassured that Christian refugees would receive assistance from his administration, despite his call for a 120-day ban on all refugees.
"They've been horribly treated," Trump said. "Do you know if you were a Christian in Syria it was impossible, at least very tough to get into the United States? If you were a Muslim you could come in, but if you were a Christian, it was almost impossible and the reason that was so unfair, everybody was persecuted in all fairness, but they were chopping off the heads of everybody but more so the Christians. And I thought it was very, very unfair. So we are going to help them."
In other words, what Trump is essentially saying is: "If you're not a Muslim refugee, you can come in." 
A draft copy of the executive order pretty much confirms this, too — stating there will likely be an exception for refugees who are fleeing religious persecution — but not as explicitly as Trump's remarks on The Brody File. 
While it's certainly true extremist groups like ISIS persecute Christians and other religious minorities, Trump fails to understand that Muslims are also fleeing religious persecution. In fact, the majority of ISIS' victims are Muslims. This includes mass executions and beheadings of Shi'ite Muslims, even Sunni Muslims and imams who refuse to support or offer their loyalty to ISIS. 
But then again, what can you expect from someone who equates Islam with terrorism?