Bam leaves 'Alaskan Bush People' — but he's not married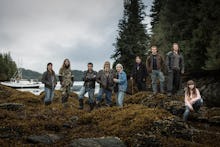 Discovery Channel series Alaskan Bush People said goodbye to the second eldest Brown son, Bam, on Wednesday night. Speculation about Bam's involvement on the series has been growing since he was spotted in New York City over the summer, and the latest episode finally confirmed his departure.
Billy and Ami Brown and their seven children — Matt, Bam, Bear, Gabe, Noah, Snowbird and Rain — live in Browntown, a place in rural Alaska that they built themselves. Fans of the reality show have watched the family build Browntown from the ground up. And while they claim to live off the grid, there have been rumors that the series isn't actually real. Photos started circulating over the summer of Bam enjoying life in the "lower 48," leading some to speculate that the family doesn't live in Alaska full time. 
Wednesday's episode revealed that Bam decided to leave his family before winter to do something for himself. He explained to the cameras that he's been "lonely" and "longing for something." Realizing that he had an "open void" in his life, Bam broke the news to Billy and Ami that he was traveling to the lower 48.
"I want kids of my own and my own family," Bam said.
So, did Bam find love in the lower 48? The reality star confirmed to People that he did meet a city girl.
"She's stirred something inside me and made my soul wake up," Bam told the outlet. 
So, who is the lucky lady? Bam won't reveal her identity just yet. However, fans believe that they dug up a photo of his love interest, and that it's none other than a producer of Alaskan Bush People. There were even rumors that the two got married after Bam was photographed with a ring on his ring finger.
Bam did put the marriage rumors to rest, telling People that there was no engagement yet.
"I hope we can blend our lives together and I can take her back to Alaska," he said.
Alaskan Bush People airs on Discovery Channel Wednesdays at 9 p.m. Eastern.