Lawsuits filed after refugees "unlawfully" detained in wake of Trump's immigration executive order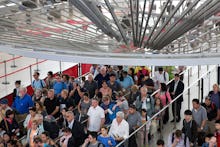 On Friday, President Donald Trump signed an executive order suspending the nation's refugee settlement program and barring immigrants from countries with "would-be terrorists," namely Iraq, Syria, Iran, Sudan, Libya, Somalia and Yemen. 
The executive order went into immediate effect, meaning refugees on planes to the United States landed in a nation newly hostile to their presence. Though they were given permission to settle here by the U.S. State Department, after a long, complex vetting process, they are now being detained in U.S. airports, waiting for news of their fate, the New York Times reports.  
Early Saturday morning, prominent groups including the American Civil Liberties Union, the International Refugee Assistance Project, the National Immigration Law Center and others filed legal challenges to Trump's executive order, prompted by these detentions, which they described as unlawful. Aside from advocating for individual detainees, the groups also filed a motion for class certification to represent all refugees and immigrants being detained. 
Attorneys were not allowed to meet with their detained clients. According to the New York Times, when Mark Doss, a lawyer from the International Refugee Assistance Project, asked whom he needed to speak to, a customs agent replied "Call Mr. Trump." 
"We've never had an issue once one of our clients was at a port of entry in the United States," Doss told the Times. "To see people being detained indefinitely in the country that's supposed to welcome them is a total shock."
He added, "These are people with valid visas and legitimate refugee claims who have already been determined by the State Department and the Department of Homeland Security to be admissible and to be allowed to enter the U.S. and now are being unlawfully detained." 
One of the detainees named in the legal challenges is Hameed Khalid Darweesh, who was granted an immigrant visa on Jan. 20. He worked as an interpreter for the Army's 101st Airborne Division in Iraq and as an engineer and contractor for the U.S. Army. Darweesh arrived at John F. Kennedy Airport with his wife and three children, and while his family was allowed to enter, he was detained.
Another detainee, Haider Sameer Abdulkhaleq Alshawi, came to be with his wife and son in Texas. However, according to his wife identified only as D., Alshawi was put in a room and detained after handing customs agents his passport. 
 "He told me that they forced him to get back to Iraq," D. told the Times. "He asked for his lawyer and to apply for an asylum case. And they told him you can't do that, you need to go back to your country."
When he boarded a plane from Iraq to the United States, Donald Trump had not yet signed the immigration executive order, which, among other things, grants priority to Christian refugees over Muslim ones. 
"I'm really breaking down, because I don't know what to do," his wife told the Times. "It's not fair."
Saturday morning, congressman Jerry Nadler shared on his personal Twitter that he and congresswoman Nydia Velazquez successfully got Hameed Jhalid Darweesh out of detention. 
Jan. 28, 2017, 12:47 p.m.: This story has been updated.