Donald Trump's Muslim ban blocks Oscar-nominated Iranian director Asghar Farhadi from awards show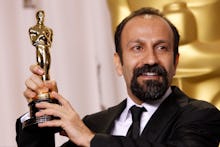 On Friday, Asghar Farhadi's The Salesman started playing in theaters across the United States. 
Friday is also when President Donald Trump's executive order effectively banned the Oscar-nominated Iranian director from entering the United States. This will likely prevent Farhadi from attending the Oscars where his movie is nominated for best foreign language film.
Trump's executive order on refugees issued a ban on visitors, visa holders and U.S. permanent residents from Iran, Iraq, Libya, Somalia, Sudan, Yemen and Syria from entering the country for the next 90 days. 
This means Farhadi might not be able to attend the Oscars, held on Feb. 26, since it falls within the 90-day ban — even though he may be able to win his second Academy Award. 
In 2012, Farhadi's A Separation won an Oscar for best foreign language film.
The Salesman is a drama and thriller that tells the story of a married couple who are the lead roles in The Death of a Salesman for their local theater in Tehran, Iran. But in their own home, an intruder physically assaults the wife, and their marriage takes a hit. 
Trump's executive order, or Muslim ban, has already broken up families and had devastating effects on refugees and immigrants. What's more chilling is how Farhadi presaged this ordeal during an interview with  Vox, which was conducted in November after Trump's presidential win. 
"When we place humanity at the top of the pyramid, at the pinnacle, then black or white, Iranian or American, everybody resembles one another," Farhadi said. "They are all human. But if the places are switched, the first division that will occur will be, for instance, Muslim/non-Muslim. When politics dominates humanity, then it becomes Americans versus non-Americans, or immigrants."
You can watch the trailer for The Salesman below.