Chaos, heartbreak at airports across US as Trump's Muslim ban kicks in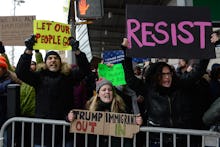 After President Donald Trump signed an executive order on Friday barring all refugees entry to the U.S. for 120 days and restricting valid visa and green card holders from seven Muslim-majority countries from entering the U.S. for 90 days, reports flooded in from around the country — and the world — of people being detained or sent back at major international airports.
According to the Washington Post, authorities detained two Iraqi men at New York City's John F. Kennedy International Airport on Friday: 33-year-old refugee and U.S. Government contractor Sameer Abdulkhaleq Alshawi and 53-year-old military translator Hameed Khalid Darweesh. After New York Reps. Jerry Nadler and Nydia Velazquez intervened, Darweesh was released Saturday afternoon.
Velazquez said in an interview the representatives "don't know" how many others are being detained at the airport, adding the situation was "out of control."
In a separate incident at an airport in Cairo, six Iraqis and one Yemeni were prohibited from boarding an EgyptAir flight to JFK, the Post also reported. Officials at the airport reportedly told lawyers for the detainees to call "Mr. President. Call Mr. Trump."
Seyed Soheil Saeedi Saravi, an Iranian scientist, had a visa to study cardiovascular medicine at Harvard suspended indefinitely despite the fact Saravi had "already been thoroughly vetted," Harvard professor Thomas Michel told the New York Times.
Massachusetts Institute of Technology Ph.D. candidate Sarah Schwettmann tweeted about an undergrad who had been on holiday in Iran would not be allowed back into the U.S.
Asghar Farhadi, the Iranian director whose film The Salesman is up for an Academy Award this year, will not be able to enter the country to attend the awards, author Trita Parsi posted.
Fletcher School of Law and Diplomacy professor Daniel W. Drezner posted to Twitter saying the same of a Syrian refugee family sponsored by his synagogue.
At Dallas/Fort Worth International Airport, "at least" nine immigrants with valid visas were reportedly refused entry to the U.S., according to journalist Dianne Solis.
The Los Angeles Times spoke with 34-year-old Mohammed Rawi, who told them officials prevented his 69-year-old grandfather, Qassim Rawi, from boarding a flight from Doha, Qatar, to Los Angeles.
"He's just a retired civil engineer who wanted to see his grandchildren," the younger Rawi said.
According to the Cleveland Plain Dealer, a Syrian family due to resettle in Ohio on Tuesday was denied entry.
Retired Naval Officer and author Malcolm Nance tweeted that several Iraqi interpreters who had worked with the U.S. military were denied permits.
Nadhim Zahawi, a Conservative member of the U.K. Parliament from Stratford-on-Avon near London, tweeted that he and his wife were both prohibited from visiting the U.S. as they were born in Iraq.
White House officials told the Washington Post's Jenna Johnson all green card holders from the applicable countries will have to meet with consular officers before leaving the U.S.
Top Republican officials like Speaker of the House Paul Ryan and White House Chief of Staff Reince Priebus who once criticized Trump for proposing a ban on Muslims entering the country have largely either supported the proposal or simply gone silent.