Iran retaliates against Donald Trump by imposing ban on US travel to Iran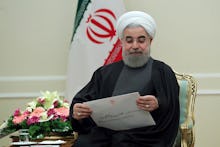 The government of Iran is retaliating against Republican President Donald Trump's decision to ban valid visa holders from seven Muslim-majority countries from entering the U.S. for at least 90 days by implemented its own reverse travel ban on U.S. citizens, CNN reported.
According to CNN, the Iranian Foreign Ministry called Trump's order "an obvious insult to the Islamic world and in particular to the great nation of Iran."
According to the Times of Israel, the ministry added the travel ban was "illegal, illogical and contrary to international rules" and said its own retaliatory version will continue until the U.S. policy is reversed.
Jan. 28, 2017, 4:25 p.m.: This post has been updated.