Texas mosque up in flames only hours after Trump's Muslim ban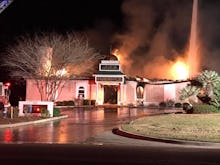 The Islamic Center of Victoria in Victoria, Texas, erupted in flames after midnight on Saturday, destroying the edifice while congregants watched curbside, the Victoria Advocate reported. 
Members of the congregation approached the mosque early in the morning for the first prayer of the day and discovered the destroyed mosque. According to Shahid Hashmi, president of the center said the congregation wants to rebuild as soon as possible. 
Victoria Fire Marshal Tom Legler told the Advocate he had no theories on how the fire started. Battalion Chief Jeff Cowan of the Victoria Fire Department didn't find anyone in the building, but did say the fire was so intense that they had to practice "defensive tactics" including spraying water from extended ladders to control the flames. 
The center thanked firefighters in a Facebook post early Saturday. 
The center also posted pictures of the blaze and its aftermath. 
"We will rebuild with love!" one caption read. "A sad day in our beloved city!" read another. 
The Islamic Center of Victoria told Mic they want to rebuild as soon as funds are available. 
"We want to celebrate our next holy day in June in our new mosque," the Center said in a statement. 
The mosque already started a GoFundMe, which raised over $34,000 in four hours toward a $450,000 goal.  
According to Hashmi, the mosque was also burglarized the day after Trump's inauguration. The center's 100 members plan to hold a prayer service there on Sunday. In July 2013, someone spray-painted the word "h8" on the side of the building. 
On Friday, Trump signed an executive order that has come to be referred to in shorthand online as the "Muslim ban." The executive order temporarily suspending the nation's refugee settlement program. It targeted Muslims from Muslim-majority countries and gave preferential status to Christians. 
Trump's Islamophobic rhetoric echoed throughout the Muslim community prior to his election. 2015, the year Trump began his bid for the presidency, was deemed the worst year for mosque attacks on record.
Jan. 28, 2017 2:18 p.m.: This story has been updated.