14 photos show the massive protests against Trump's Muslim ban at airports across the US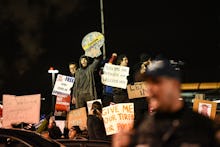 On Friday, President Donald Trump signed an executive order banning refugees and barring visa and green card holders from seven Muslim-majority countries. And on Saturday, travelers from those countries making their way into the United States felt the immediate consequences of the presidential mandate. Authorities detained dozens of legal U.S. residents at New York's John F. Kennedy International Airport, Chicago's O'Hare International Airport, Washington Dulles International Airport and other airports.
Protesters sprung into action Saturday afternoon, occupying entire airport terminals in protest of Trump and in solidarity with immigrants and refugees attempting to enter the country.
Here's what it looks like on the inside.
John F. Kennedy International Airport
Chicago O'Hare International Airport 
Washington Dulles International Airport
Los Angeles International Airport
San Francisco International Airport