Kim Kardashian challenges Trump's Muslim ban with cold, hard facts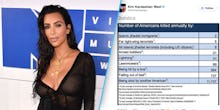 When Kim Kardashian West comes for you, there will be no survivors.
In response to President Donald Trump's imposed 90-day travel ban for seven Muslim-majority countries and 120-day suspension of refugee admissions, the reality star took to Twitter to post a tea-sipping subtweet on Saturday night.
The tweet, a screenshot of statistics culled mostly from government websites, implies that the threat of death by radical Islamic jihad for an American is markedly lower than the threat of, say, getting struck by lightning — or of being shot by another American. 
Kardashian West has been using her celebrity in the past year to assert herself politically; in July, she came out in support of the Black Lives Matter movement following the shooting deaths of Philando Castile and Alton Sterling. 
Some were quick to cry hypocrisy on the tweet, however, in light of the fact that Kardashian West's husband, rapper Kanye West, endorsed Trump during a concert as recently as November.
"I told y'all I didn't vote, right?" West told the San Jose, California, crowd at the time. "But if I would've voted I would've voted for Trump."